I think it's safe to assume that very few people have visited London without setting foot in Covent Garden, but did you know there's so many things to do here aside from strolling through with your camera!?
Most people who visit Covent Garden will wander among the pretty streets and admire an incredible building or two, maybe they'll stop to watch a street performer and then move on. But stop right there! Stay a little longer and discover more of Covent Garden's secrets….
Covent Garden is in the heart of London's West End with Piccadilly Circus, Leicester Square and Chinatown as its neighbours. Covent Garden boasts an endless list of historic pubs, theatres, first-rate restaurants, boutique stores and so much more. 
But so many visitors just walk right through it! They wander down the cobbled lanes, possibly have a quick look inside the market and then move on. 
But there are so many things to do in Covent Garden! You could spend a whole weekend in London without leaving the neighbourhood and still not see and do everything.
To help you plan your trip, here are 25 amazing things to do in Covent Garden that will allow you to appreciate and experience this historic neighbourhood beyond the crowds.
I used to work in Covent Garden and, at the time, I had no idea how lucky I was! Every lunch break was a little adventure and there was always something going on when I'd finished work. It was such a great place to be based! So here are some of the best things to do….
1. Somerset House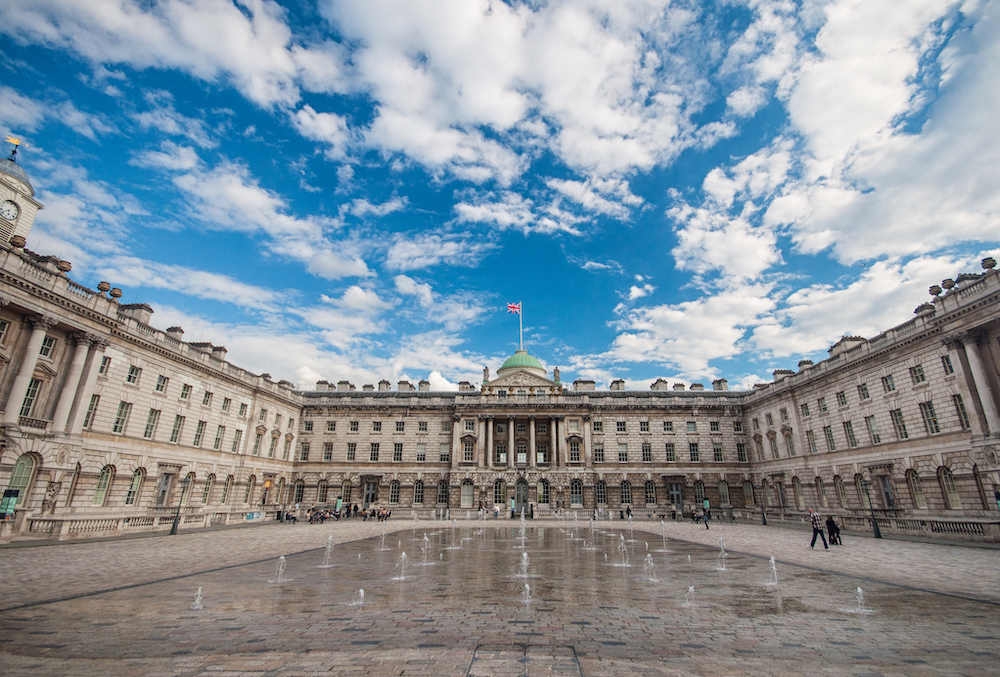 Somerset House is a neoclassical building (or a complex, it's such a sprawling estate!) that dates back to 1776. But it's so much more than a grand and historic building. It's an arts centre, exhibition space, events venue, and even a James Bond filming location.
For two months of the year, it hosts an event so popular that it even draws native Londoners to the West End. Somerset House's spectacular festive ice skating rink is an absolute must if you're looking for things to do in Covent Garden during the lead-up to Christmas.
2. Covent Garden Market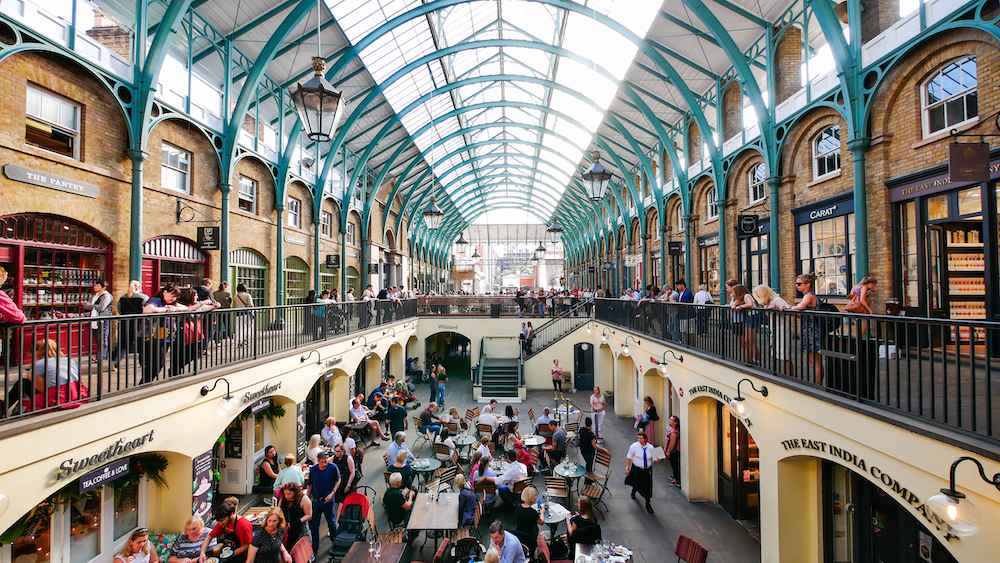 Traders, farmers, and collectors have been flogging their wares in Jubilee Hall (the building that houses the market) for over 100 years. Today, the market is one of the top things to do in London, not just Covent Garden.
On Mondays, you can delve into an antiques and collectables market where the old apple market used to be. And from Tuesdays to Sundays, the stalls sell handmade and local arts and crafts. There are also plenty of shops and restaurants in Jubilee Market too.
3. Neal's Yard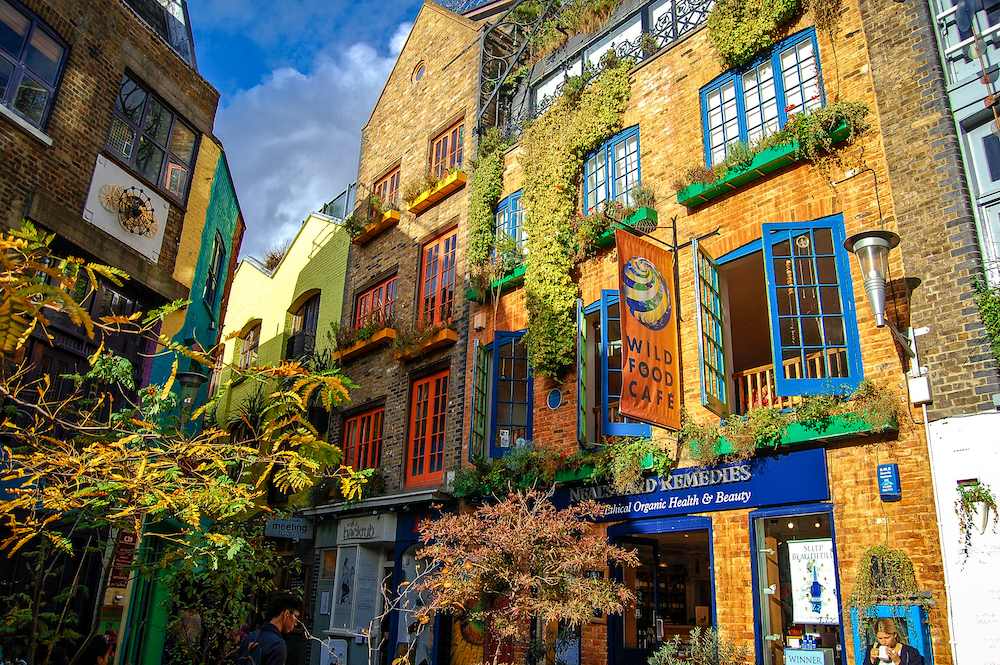 The worst-kept secret of Covent Garden? This courtyard might seem tucked away but its brightly-coloured buildings and namesake skincare brand mean it gets a lot of foot traffic. 
And for good reason! Not only is it an Instagrammable spot, but there are also lots of fab independent coffee shops and brunch bars here. You should absolutely stop by the original Neal's Yard Remedies shop and pick the brains of their skincare experts.
4. St Paul's Church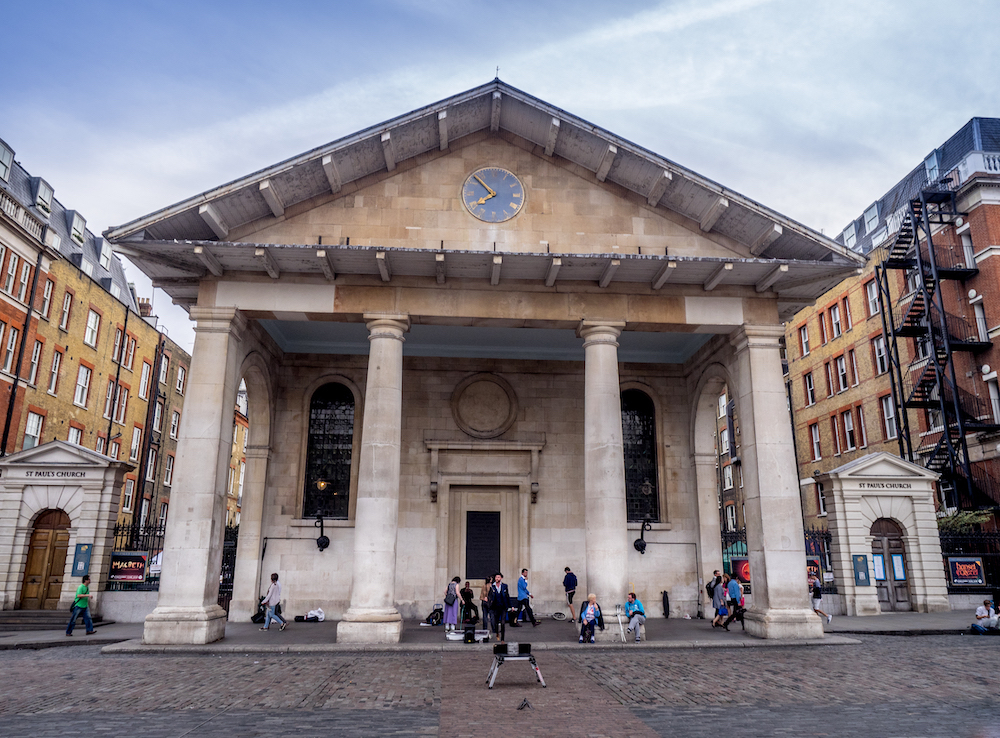 Not to be confused with St Paul's Cathedral which is a mightier structure all together!
If you know anything about the West End, you know it's where you'll find most of London's theatres. Ever since the church opened in 1633, it's been connected to the Theatre Royal and the theatre that would become the Royal Opera House. 
Inside, you'll find memorials dedicated to some of Britain's brightest stars like Charlie Chaplin, Vivian Leigh, and Noel Coward here as well as some actors' ashes. They often host performances here too but the church is often open (and always free!) for anyone to wander around.
5. Red Telephone Boxes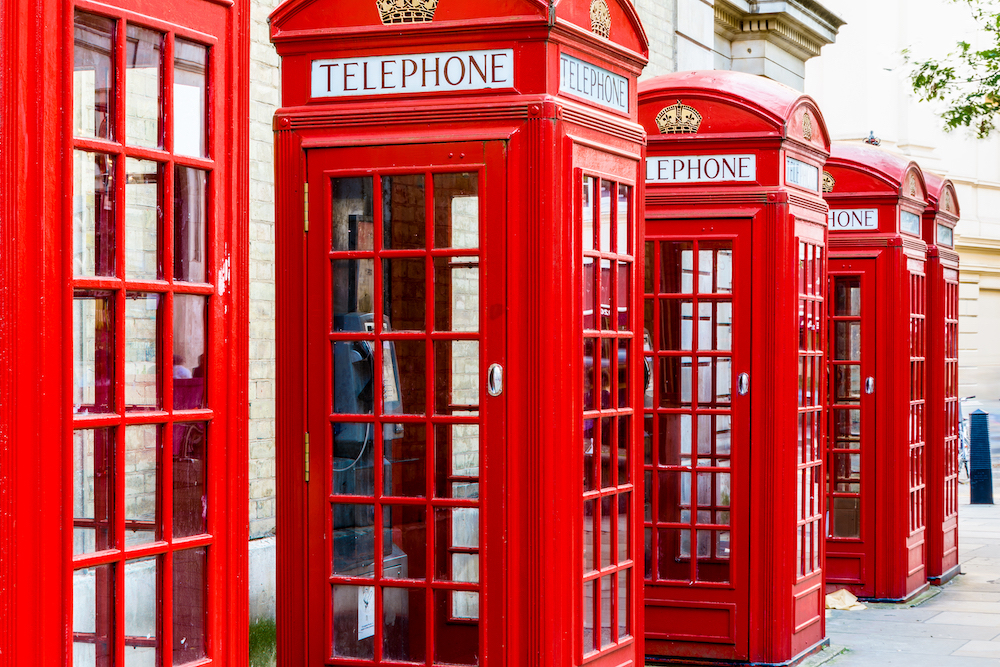 Like red post boxes and double-decker buses, red telephone boxes are a symbol of London for many people. You can't visit the English capital without snapping a few selfies while peeking out of a telephone box door!
But due to vandalism and the declining demand for telephone boxes, it's difficult to find photogenic ones. Luckily, if you head down Broad Court in Covent Garden you'll find five pristine red telephone boxes. They're right next to the Young Ballerina statue by Enzo Plazzotta near the Royal Opera House.
6. London Transport Museum
Okay, hear me out. Transport might not seem like the most thrilling subject for a museum, but London's history with public transport is actually quite fascinating. 
The first ever underground train line was London's metropolitan line (fun fact: that's why many underground networks are called the 'metro'). And those red double-decker buses are pretty iconic. If you want to find out more about London's transport history from the early 1800s to today, you cannot skip the London Transport Museum.
7. Cecil Court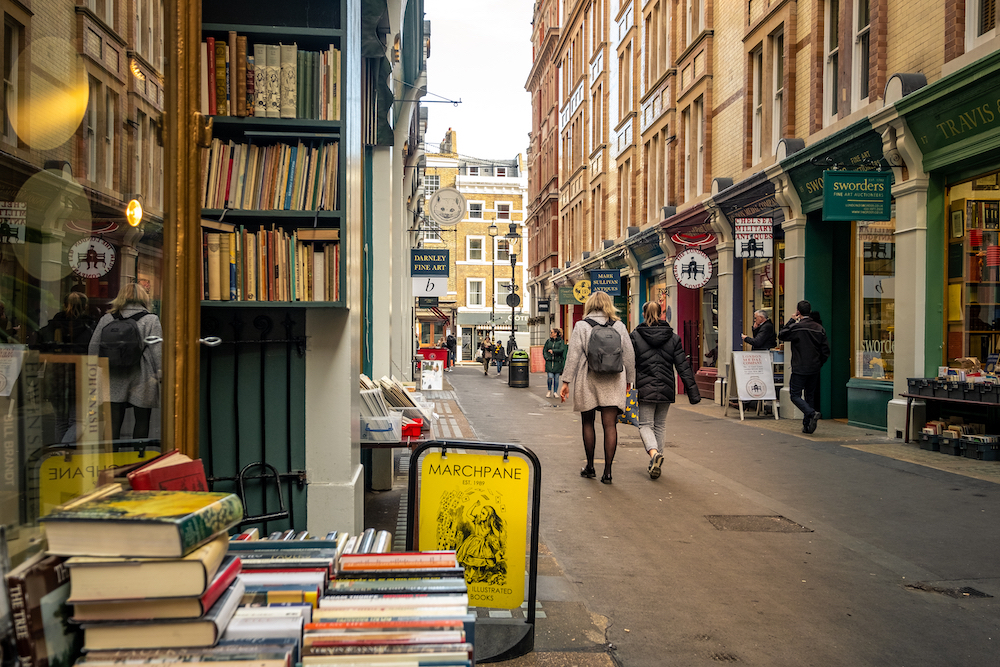 While it might not look as postcard-perfect as Neal's Yard, Cecil Court is one of the more understated parts of Covent Garden. What it lacks in colour, it makes up for in history. 
This street (known as 'Booksellers Row' for almost 100 years) is lined with Victorian shop fronts and signposts. You'll find lots of bookshops, like Watkins Books, and an Alice in Wonderland-themed gift shop.
8. Royal Opera House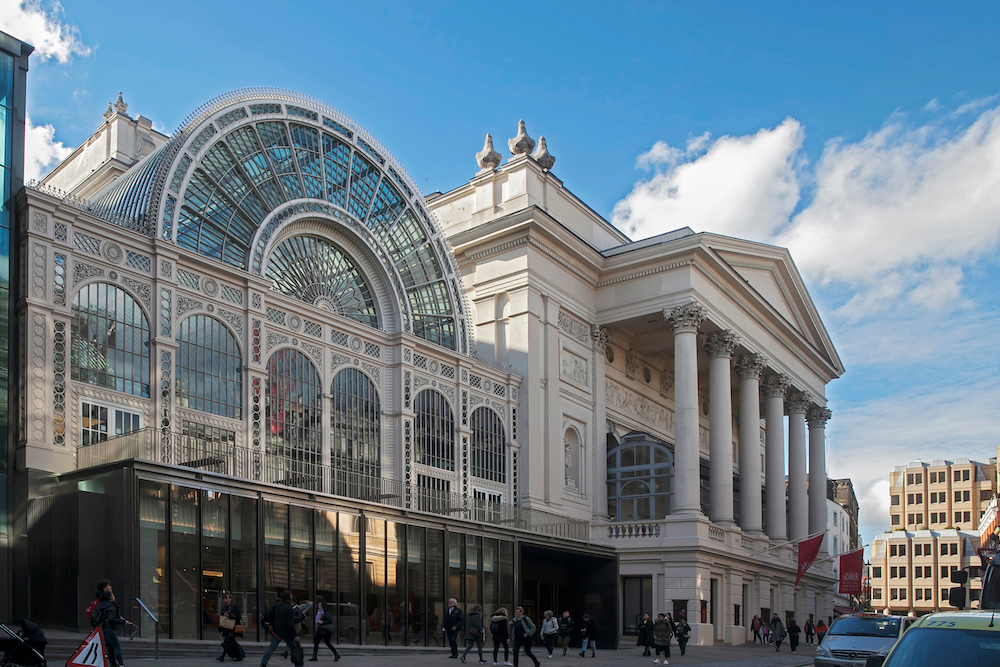 London's Royal Opera House has thrived for hundreds of years with many different names and housed in different buildings. Today, it graces Covent Garden's main piazza with world-class ballets, concerts, and operatic performances.
The theatre's plush gilded gold auditorium is absolutely something you should absolutely see with your own eyes. Pack your glitziest dress and take one of 2,256 seats in this impressive theatre for a show you'll never forget!
9. Ears of Covent Garden
Not to be confused with the "noses of Soho", one of the most unusual things to do in Covent Garden is to attempt to find the ears stuck on various walls. Artist Tim Fishlock made casts of his own ears and hid them in this part of London.
I'll give you a head start; two are on Floral Street but there are rumoured to be more!
10. Stanfords Travel Bookshop
This is a travel blog so, of course, we love all things travel around here! Stanfords is a Covent Garden institution selling maps, guidebooks, and the best travel-themed books. 
It's an absolutely huge space. Stanfords even sells stationary, globes, and other travel nick-nacks and has its own cafe too.
11. London Film Museum
Most film fans head to the British Film Institute on the Southbank, but the London Film Museum should be on any cinephile's hit list. Founded in 2008, it usually houses one temporary exhibition. 
But its current 'Bond in Motion' exhibit is so popular, it's been there for seven years and counting! It displays the largest collection of vehicles from the James Bond films in the world as well as other props and costumes.
12. Seven Dials Market
Street food markets are ideal for grabbing an inexpensive yet tasty lunch when you're travelling. There's just one problem with these markets in the UK – it rains a lot! 
The Seven Dials Market is the next best thing. It's like an elevated food court where you can order food from a huge range of vendors and sit at communal tables. Enjoy curry, pizza, buddha bowls and more under one roof!
13. Watch a show at the Theatre
One of the top things to do in Covent Garden, and the West End in general, is to watch a show. And luckily, you have many choices! The Adelphi Theatre, Vaudeville Theatre, Theatre Royal Drury Lane, Lyceum Theatre, and Noel Coward Theatre are all situated in Covent Garden.
Check out what's currently playing to see if there's anything that catches your eye. But if you're open to anything, head to the Theatre Royal on Drury Lane. It's on the world's oldest theatre site in continuous use and is a historic Grade I listed building. 
14. Quirky Victorian Lamps
If your vision of London is a city full of chimney sweeps and Pearly Kings and Queens ala Mary Poppins then I'm sorry to say you'll be greatly disappointed! But there are a few traces of historic London that are alive and well including some Victorian gas lamp posts.
You can spot these on Cecil Court and there are a few around St Paul's Church too. There's even a Sewer Ventilating Lamp on Carting Lane which was an idea that thankfully didn't catch on because it would've smelled awful! Today, it's powered by regular gas.
15. Infinity Chamber
One of Covent Garden's newest attractions is the Infinity Chamber. It's literally one of Covent Garden's signature cobbled-stone alleyways that's been transformed into a tunnel of light and colour.
It's supposed to be restorative and therapeutic and only takes five minutes to walk through. What've you got to lose?!
16. Shop for Vintage Clothes
Other neighbourhoods like Shoreditch and Camden might be more famous than Covent Garden for their vintage stores. But there are still some great retro fashion boutiques you should check out in Covent Garden.
While the much-loved Vintage Showroom has sadly closed down, Rockit Covent Garden, COW Vintage, PICKNWEIGHT and many others will satiate your shopping habits.
17. Benjamin Pollock's Toyshop
Traditional toy shops are so rare these days, with Hamley's being a notable exception. Benjamin Pollock's Toyshop is an old-school-style shop selling both antique and modern toys. 
You'll find it right in the centre of Covent Garden Piazza. And when you head inside, you'll discover ornate music boxes, card games, dolls of all shapes and sizes, books, and miniature theatres.
18. Historic London Pubs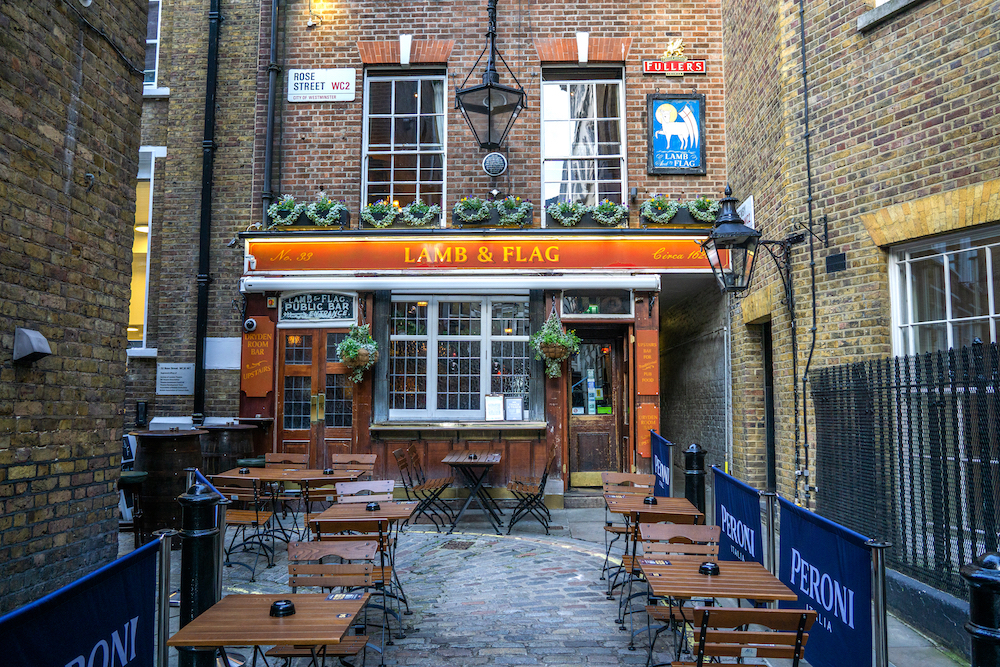 Can you visit London without going to the pub? I think it's against the law! Luckily, Covent Garden has some of, if not the best historic pubs that the who's who of famous Londoners used to frequent.
The Lamb & Flag is a Georgian-era pub known for its bare-knuckle fights and a favourite of author Charles Dickens. Dating back to 1798, Rules Restaurant is a time capsule that also lists Charles Dickens as a former patron, as well as sci-fi author H.G. Wells. Evelyn Waugh and Penelope Lively even featured this establishment in some of their novels!
19. Bottomless Brunches
You can't toss a slice of avocado toast in the centre of London without hitting at least three brunch restaurants with back-achingly long queues. Make your first meal of the day worth the wait by checking out one of the bottomless brunches in Covent Garden.
Temper's bottomless brunch offers unlimited drinks and BBQ every Saturday if you've had enough of egg benedicts and want to tuck into something meatier. Disco bottomless brunch at Blame Gloria is a fun alternative and they cater to a variety of dietary requirements.
20. Independent Coffee Shops
Walking on cobblestones and checking out all the things to do in Covent Garden requires a lot of stamina. Recharge at one of the fantastic coffee shops and roasters in the local area.
Redemption Roasters and Monmouth Coffee Company should satisfy even the most difficult-to-impress coffee snobs.
21. Chic Cocktail Bars
Fancy a liquid lunch? Or somewhere to round off your night after eating dinner and watching a show? Choosing a cocktail bar in Covent Garden is a tough decision because there are so many good ones!
Fans of classic cocktails should head to Dirty Martini but those who are a bit more adventurous should try Escapologist Bar. Covent Garden Social Club is perfect for those who care less about how good the cocktails are and care more about dancing the night away!
22. Fusion Cuisine Restaurants
One of the best things about London is all the cultures that are represented in the cuisine of its many restaurants. Sometimes more than one at a time! 
SUSHISAMBA is a great example as they converge Japanese and Latin American flavours. Inamo has a pan-Asian menu serving dishes like Asian tapas. And while Dishoom is firmly Indian, it's a Covent Garden favourite and still breaks down borders by serving much more than just curry.
23. Quirky Bakeries
Have you ever seen a bakery that describes its bakes as "sexy French waffles"? You will if you head to Zizi Factory in Covent Garden! They serve, erm, erotica-shaped sweet treats that are genuinely delicious.
If you're travelling with your children or ageing parents and want to stop by a bakery that's a little less risqué, go to Santa Nata. They serve delectable Portuguese tarts made fresh in front of your eyes.
24. Non-Traditional Afternoon Teas
Afternoon tea is to London as hotdogs are to New York. And what's more, Covent Garden has a couple of alternative options to the run-of-the-mill tea and scones offerings.
Cinnamon Bazaar's Indian-inspired afternoon tea adds vibrancy, colour, and spice to its dishes. But if you can't consider sitting down to an afternoon tea without traditional English bakes, try the Charlie and the Chocolate Factory Afternoon Tea. That's literally the name of the cafe so you know they're very passionate about what they do!
25. Watch Street Performers
Just in case you were worried, there's absolutely nothing wrong with going to Covent Garden and watching the street performers! Yes, some just dress up in Transformer costumes and charge you for photographs with them.
But some of the musicians, actors, and entertainers that perform in Covent Garden Piazza are genuinely super talented. If you join one of the crowds surrounding a street performer, you might end up watching the next big thing!
Source: thetravelhack.com