If you're travelling with toiletries in your hand luggage there are a few things you need to know.
Remember, these rules are all enforced and if you don't follow the rules you'll have your toiletries taken away and you'll probably be delayed. Sometimes the delay at security will be a few minutes but sometimes it can be over an hour. 
It's not worth the hassle so stick to these rules when you're travelling from the UK with toiletries in your hand luggage.
1. Your liquids must be in 100ml bottles and containers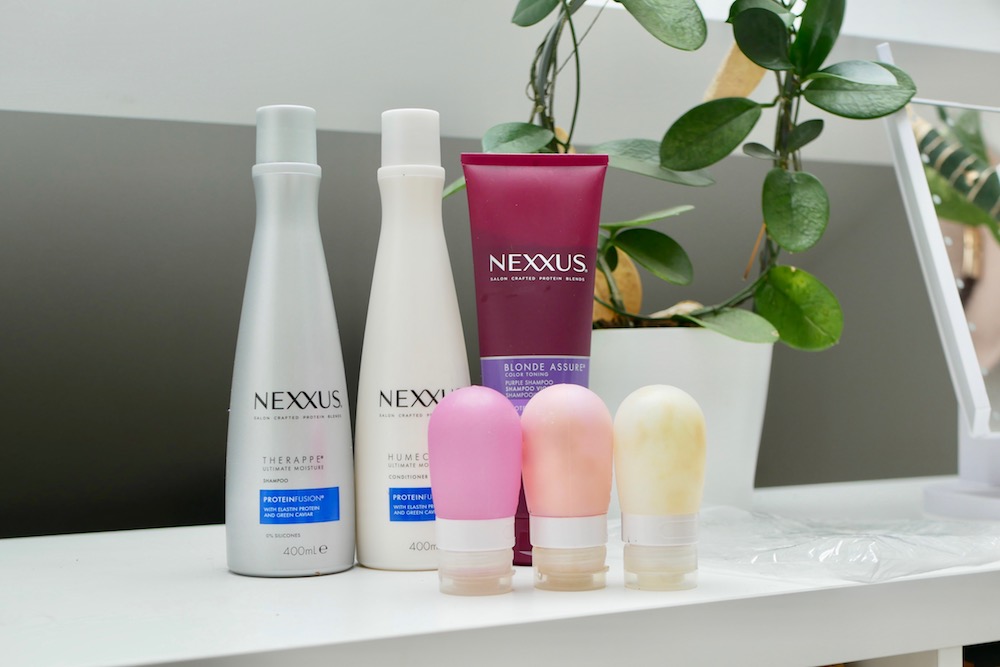 I'll repeat that for the people at the back. Your containers cannot be over 100ml.
It doesn't matter if the container isn't full, it still can't be over 100ml.
You can buy travel sized miniatures but I prefer to use refillable silicone bottles and tiny refillable pots. My favourites are linked below.
There is no real restriction on the number of 100ml containers you can take with you, but they must fit inside the clear plastic bag (mentioned below).

Opret 100ml Silicone Travel Bottle, 4 Pack Leak Proof Refillable Squeezable Containers with Lable 3.4oz for Shampoo, Conditioner and Toiletries, BPA Free and TSA Approved
◆ Portable Travel Bottles – These travel bottles are designed with wide opening, convenient for refilling and cleaning. With 4 different colours bottles and label, you can identify different contents easily. Perfect for shampoo, lotions, liquid soap, sunscreen, gel and cream for travel or business trip
◆ TSA Carry-on Approved – The 100ml/3.4oz travel tubes meet TSA 3-1-1 policy, ideal for travelling and trip, easy to carry and save space. You will surly check-in fast and stress-free with them
◆ Leak Proof Design – With upgraded assembly-free and anti-leak design, these travel bottles will only dispense bottle contents when its silicone body is pressed. Never have to worry about the embarrassment of the liquid leak in your bag
◆ Food-grade Silicone – Made of 100% BPA free food-grade silicone, the silicone containers are safe, soft and squeezable. And can also be used for ketchup, mustard or other thick dressing
◆ No-risk Purchase – 30-day money back guarantee for any quality reasons, just feel free to contact us if you have any problems
2. If you can pour, spray or spread it, it's a liquid
You may be thinking that a liquid is something you can pour, like water or juice.
No, no, no.
When you're going through airport security, a liquid is anything you can 'pour, spray or spread'.
So that's things like shampoo, gels, balms, shower gel, perfume, shaving foam, hairspray, contact lens solution, lipsticks, mascara, foams, etc. And also foods which often catch people out. Any food items which are liquid or semi-liquid need to go into your clear bag. So this is any sauce, jam, oil, liquor, wine, jelly etc.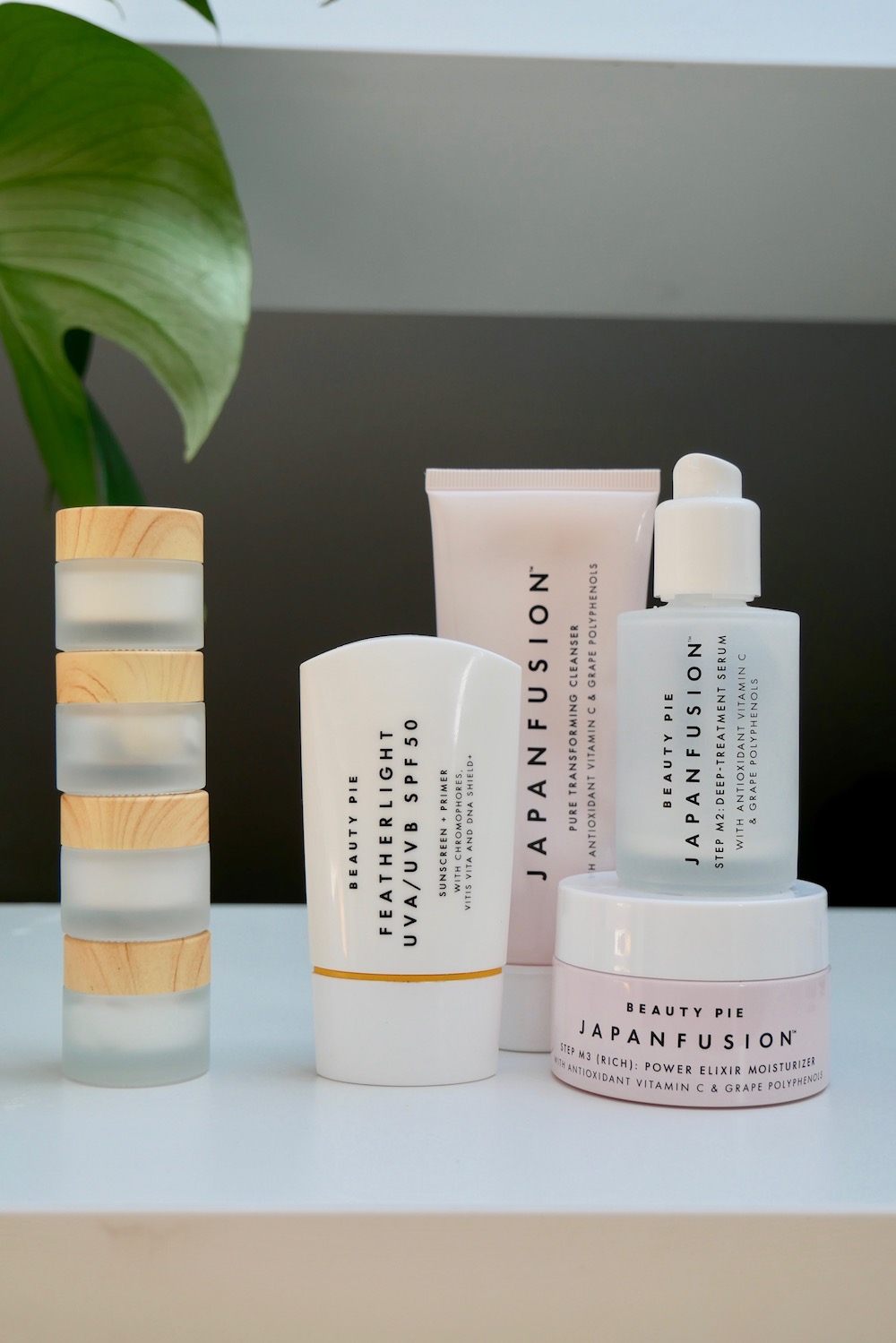 3. All liquids must be in a clear, plastic, resealable bag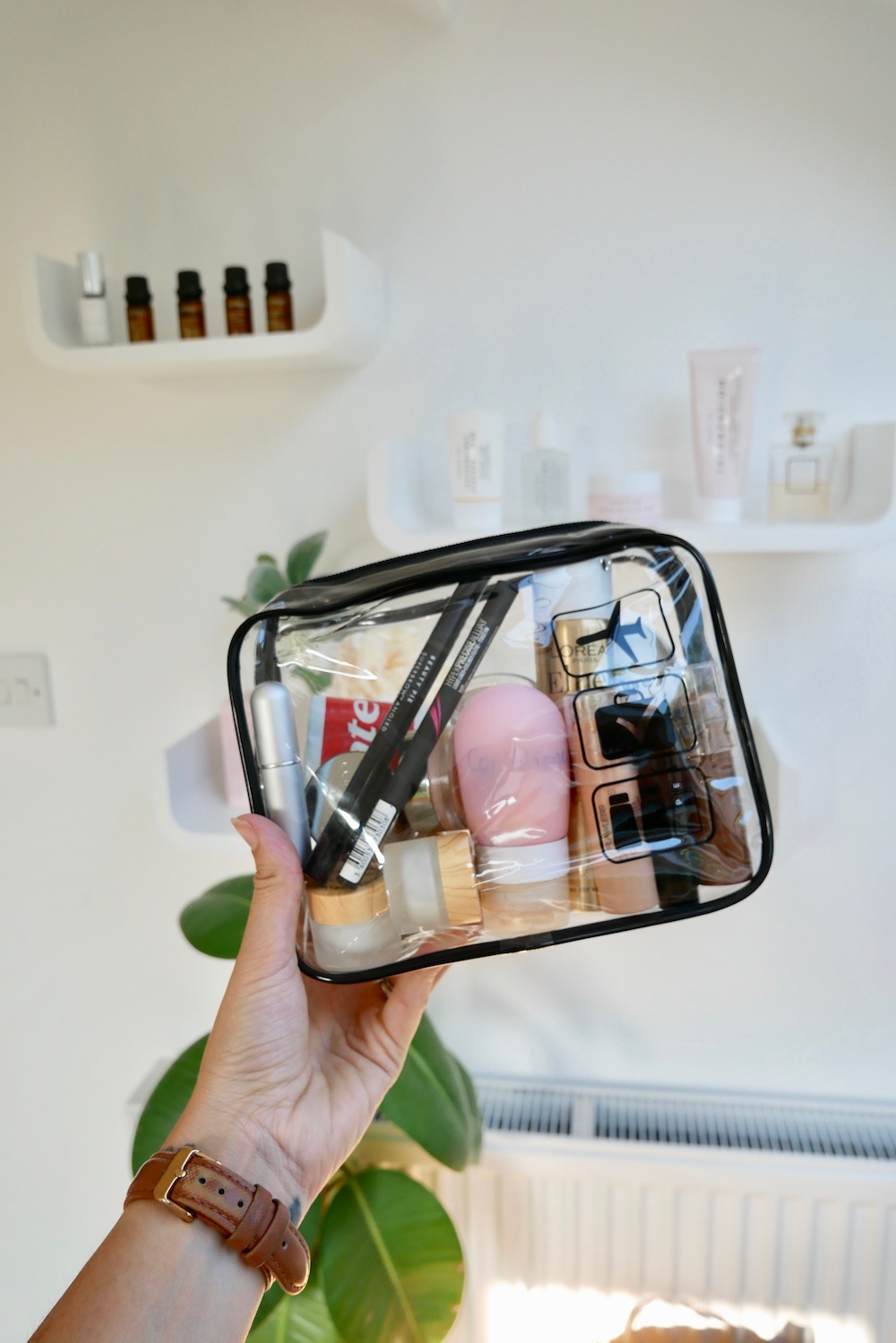 They do hand these bags out at most airports when you're in the security queue. In some airports you have to pay for them (they're £1 at Liverpool Airport). It's usually fine to take a resealable sandwich bag like the ones you've probably got at home.
I prefer to use my own zipable airport security bag to avoid using single-use plastic and so I can have it organised before I arrive.
4. The bag must not be over 20cm x 20cm
Yes, I have seen them measure the bags before.

Clear Travel Toiletry Bags with Zippers Portable Waterproof Travel Accessories Quart Size Toiletries Cosmetic Pouch Makeup Bags for Men and Women (2 pcs)
FIND ITEMS FASTER — This clear make-up bag measures 19.5*7*15 cm, which large enough to hold 100ml liquid bottles. It can help a person to spot items without rummaging through the bag. You cannot imagine how quickly and easily that this clear shower bag can help you pass through security screening or find items you need!
HIGH-QUALITY FABRIC & REINFORCED SEAMS — Utilized 0.6mm thick transparent material, WANDF transparent large toiletry bag is more durable and sturdy than most other products. Reinforced seams make it never tears and ensures that your travel make-ups or toiletries well organized. No longer worry about travel toiletry bag splitting easily and cosmetics spread anywhere!
HEAVY-DUTY ZIPPERS — Sturdy metal zippers work smoothly and can be closed firmly. Better than general products, WANDF clear cosmetic bag comes with the metal lock buckle, which prevents zippers from felling off. Provide one more protection for your items.
PORTABLE & LIGHTWEIGHT — Perfect to hold travel bottles, cosmetics, shaving kits, also great to storage make-up brush, towels, toys, etc. This clear toiletry bag is ONLY 0.13lb, lighter than an eyelash brush. A great travel companion which could hold as many toiletries as you need but does not weigh too much itself.
NOTE — Please wash the outside and inside of this toiletry bag with soap and water, and wipe it with damp. Then leave is in a well-ventilated place for a few days with opening the bag before use.
If you can't fit all your toiletries into this one small bag then you'll need to decant your products into smaller pots. I really like these ones.

Yalbdopo 6Pcs 10ml / 10g Empty Frosted Clear Glass Cosmetic Sample Containers with Wood Grain Plastic Lids and Inner Liners – Refillable Mini Travel Pot Jars for Makeup Creams Lip Balm Beauty Nails
✨ GOOD MATERIAL — Our empty frosted glass sample containers are made of high-grade glass and PP material. Leak-proof design, environmental protection, odorless, reusable and and recycle.
✨ LEAK-PROOF DESIGN — Each glass sample containers have a wood grain plastic lid and inner liner to create a tight seal that will not leak or spill out. Easy to carry and convenient to travel with sample. And it comes with 3pcs mini spatulas to facilitate your use and 6 labels help you mark different makeup.
✨ WIDE APPLICATIONS — Refillable jars to store creams, balms, lip gloss, eye cream, salves, tinctures, makeup, essential oil aromatherapy blends, sunscreen cosmetic product, facial cream, mud mask, blusher ointments, spices, seasonings and other body skin care product and more. 10-Gram jars are available in bulk quantities making them ideal for customer product samples, selling your own DIY products online, art rooms, class rooms, or keeping small treasures organized at home or the office.
✨ LIGHTWEIGHT & COMPACT — These mini jars with lids fit seamlessly in your pocket, purse, handbag, back pack, or luggage. They are especially valuable when flying as bottle sizes for carry-on creams and lotions are greatly restricted.
✨ RISK FREE – All cosmetic sample jars are ship from Amazon warehouse. Yalbdopo is a registered brand and Wanlong Technology Co., Ltd is the only authorized seller of the branding Yalbdopo sold on Amazon. Therefore, any offers from other sellers are not genuine. The quality is not guaranteed and will not be eligible for our 30 days money back guarantee. If you are not satisfied with any product, please feel free to contact us.Scroll down for more info.
5. Each passenger gets just 1 clear plastic bag
That's right. You get one bag and one bag only for your hand luggage toiletries. Don't try and take two, they won't let you.
6. Even if your container isn't full, it can't be over 100ml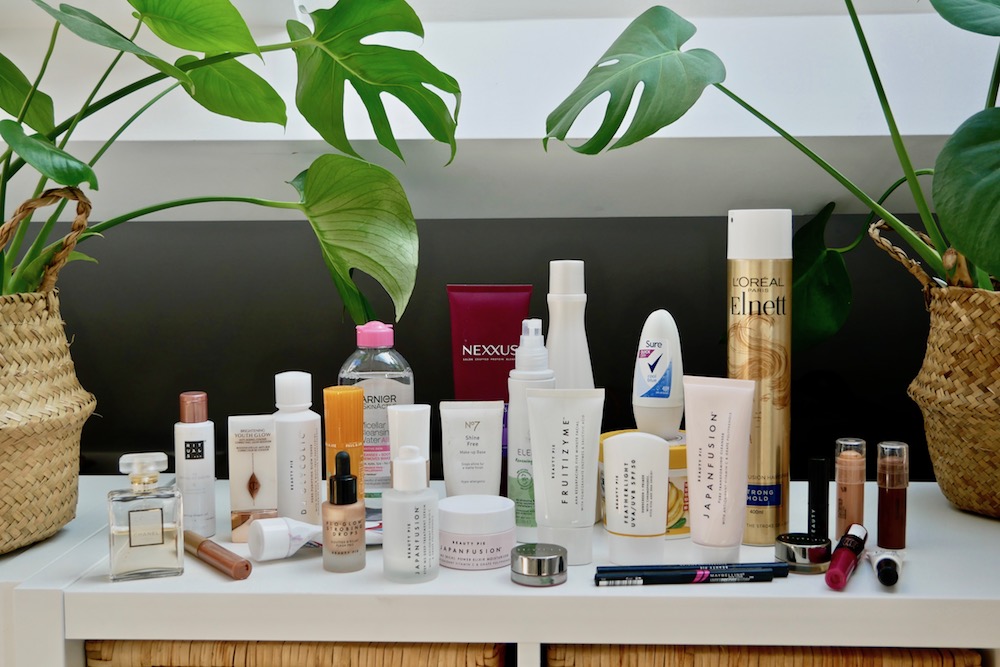 If you have a large 150ml tube of toothpaste with just a tiny blob of toothpaste remaining in it, you cannot take this through security because the container is too big.
No container can be bigger than 100ml, no matter how full it is.
7. Save money and single use plastic by using refillable bottles
I recommend choosing silicone refillable bottles for your travel toiletries. The silicone ones last longer as the plastic ones do split after a while. You can also squeeze and roll the silicone ones so you can squeeze all of your product out when you've only got a few drops left.
The only things you can't really use refillable bottles for are aerosols and roll-on deodorant.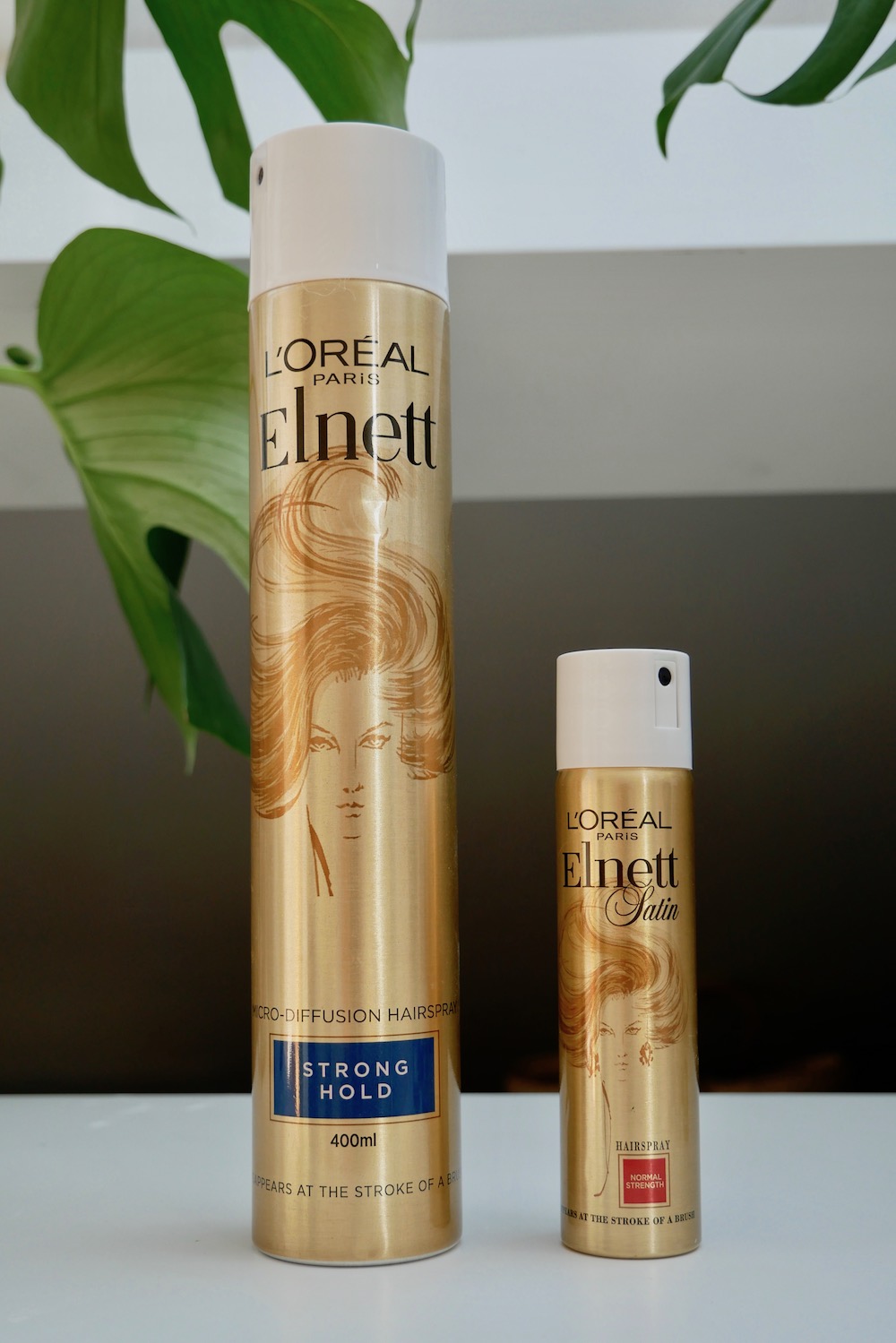 8. Powders are fine
Powders are not liquids and don't need to go into your liquids bag at airport security. So if you can switch your liquid makeups for powders then you're going to make life easier for yourself.
9. Small scissors, tweezers and most razors are fine in your hand luggage
I still find it surprising that you can take a small pair of scissors in your hand luggage but you can't take a 110ml bottle of shampoo. But those are the rules!
10. Travelling with solid toiletries is much easier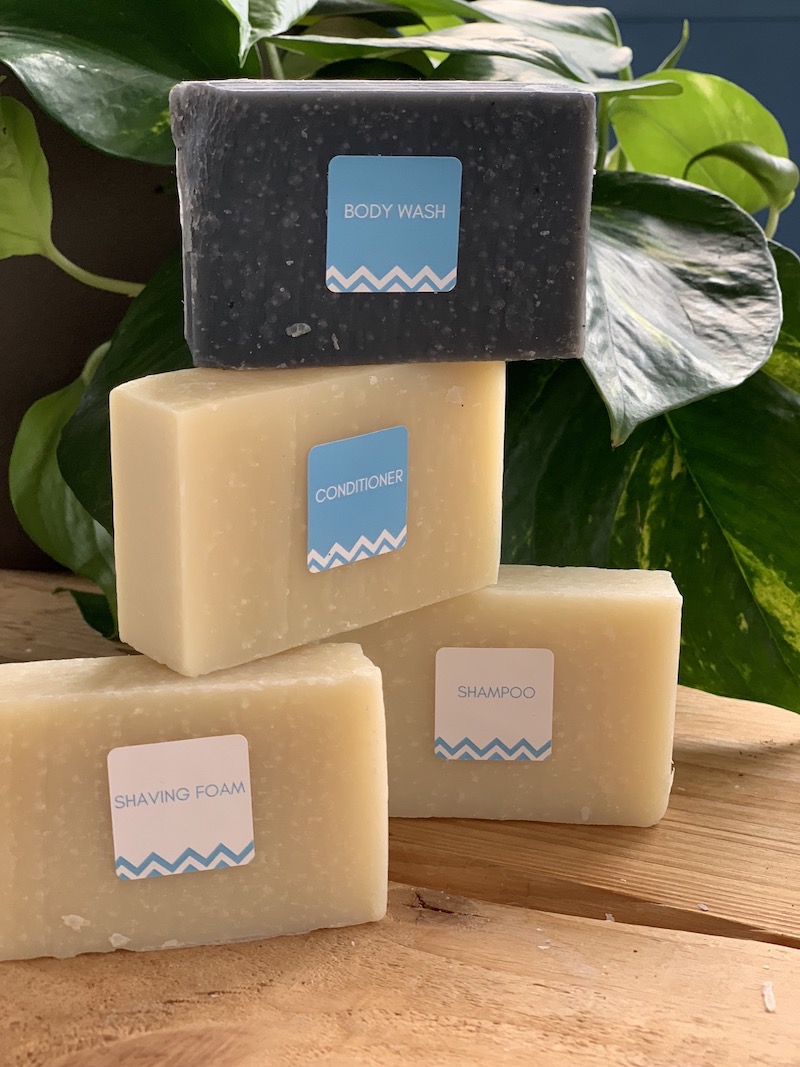 If you can, it's so much easier to travel with solid toiletries. They're better for the environment too as there's no plastic packaging. There are so many solid toiletries available these days.
I like to use a solid shampoo, solid soap and solid shaving cream.
I haven't found a great solid conditioner and solid toothpaste is disgusting so avoid that!
Sale

Garnier Ultimate Blends Coconut Hydrating Shampoo Bar with Aloe Vera for Normal Hair, 60g
Hydrating Shampoo Bar for healthy looking hair, Zero plastic waste, 100% recyclable cardboard (FSC Certified)
For Normal hair, Highly nourishing shampoo, easy to lather and fast rinse formula
Wet your hair and lather from roots to tips, Keep massaging into your hair and scalp, Rinse thoroughly
94% plant-origin ingredients, the remaining 6% guarantees the fragrance and high quality product, 97% biodegradable formula with sustainably sourced Coconut Oil & Aloe Vera 100% vegan formula, No silicones
Contents: 1x Garnier Ultimate Blends, Coconut & Aloe Hydrating Shampoo Bar, For Normal Hair, 60g
Sale

NIVEA MagicBAR Radiance Face Cleansing Bar (75g), Face Cleanser with Rose and Vitamin E, Plastic-Free Facial Cleansing Bar, Facial Cleanser Recyclable Packaging
Thoroughly cleanse: Introducing the new era of face cleansing – NIVEA MagicBAR Refreshing eco soap-free bar skin cleanser with 99% natural origin ingredients
Vegan formula: Here at NIVEA we care deeply about the environment and so our refreshing face wash bar is completely free from animal-derived ingredients
Zero plastic: We say "YES" to a more sustainable future. The packaging of the face soap free bar is plastic-free. The paper packaging is entirely recyclable
How to apply: Lather the exfoliating face wash bar in wet hands. Massage the foam onto the face while avoiding eye contact. Rinse off and enjoy a soft skin feel
Travel size: The natural and refreshing pore cleanser bar is the ideal size for taking with you on the go, so you can feel get immediate refreshment wherever you are!
FAQS for travelling with liquid toiletries in your hand luggage
Can I take deodorant in my hand luggage?
Yes, you can but it must be under 100ml.
You can take a 100ml aerosol or a 100ml roll on.
The easiest option is to use solid deodorant so you don't need to put it in your liquids bag.

Dove Nourishing Secrets Coconut & Jasmine Flower with ¼ moisturising cream Anti-perspirant Roll-On deodorant with a long-lasting, fresh fragrance 50 ml
Dove Nourishing Secrets Coconut & Jasmine Flower Anti-perspirant Deodorant Roll-on combines effective sweat and odour protection with an ultimately refreshing, long-lasting scent
Dove Nourishing Secrets deodorant contains ¼ moisturising cream for beautifully soft and smooth underarms
This alcohol-free deodorant gives up to 48 hours of anti-perspirant protection and helps reduce skin irritation
This roll-on deodorant glides on effortlessly for easy and fast application
A nourishing anti-perspirant deodorant roll-on providing the ultimate combination of protection and care alongside the creamy, caring scent of jasmine flower and coconut
How many 100ml bottles can I carry on?
You can take as many as you like, as long as they all fit inside your plastic bag. You can usually fit around 4-6 100ml bottles in your plastic bag.
What liquids can you take through security when you're flying with a baby?
You can take your baby's milk through security, they will just take the bottles away to be tested. You can take up to 100 litres of milk (whether breast milk, cow's milk or formula.)
Security also normally allows you to take water through for babies and young children.
You can also take pureed baby foods.
Can you take frozen breast milk in your hand luggage?
Now this seems like a dodgy one and after doing lots of research I can't find a solid answer. So I'm going to say 'probably not'. 
If you don't mind potentially wasting the frozen breast milk then it's worth a try but be aware that it may be taken from you, so it's worth having a back-up plan.
Baby products at Boots after security
Did you know you can pre-order your baby products from Boots online and pick them up once you've gone through security (provided the airport you're flying from has a Boots after security as it will be open at the time of your flight)? 
You can order formula and pouches of baby food.
I wouldn't say this is a necessity because taking baby liquids through security really isn't too much of a hassle. But it's an option!
What happens if you buy liquids at duty free?
Any liquids you buy at duty free can be taken on the plane, no matter how big the bottles or containers are.
For some airlines you may need to put your duty free products inside your hand luggage bag. But for most airlines you can take it on board in the carrier bag you're given at the duty free shop.
If you're buying alcohol at duty free then you probably won't be allowed to drink it.
It needs to be in a 100ml bottle or smaller and needs to go inside your clear, resealable plastic bag.
Can I take medication in my hand luggage?
Yes, you can. But if it's a liquid or cream or gel then it needs to be in a 100ml bottle or smaller.
If it's bigger than 100ml then it needs to go in your checked luggage. If you hadn't planned to take check luggage then you're going to have to I'm afraid. 
Are these liquids restrictions the same all over the world?
No, they're not! And they even differ in their strictness between airports in the UK. If you're flying from the UK then stick to these rules but check what the rules are for other countries.
Source: thetravelhack.com