Pistyll Rhaeadr Waterfall is one of the most popular attractions in Powys and quickly became a favourite of mine. It's the highest waterfall in Wales at 73 metres high and it's incredible to stand at the bottom and feel the force of the water nearby. Legend has it that a fairy queen named Blodeuwedd, who was created by flowers, lived behind the waterfall.
I'd wanted to visit Pistyll Rhaeadr waterfall for years but I'd assumed it would be difficult to visit. I don't know why but I'd assumed it would involve a difficult drive and a long hike to get there. I'd seen the photos and it looked incredible so I just assumed it would be remove and reserved for extreme adventurous and outdoorsy types.
Thankfully, Pistyll Rhaeadr waterfall is really accessible and easy to get to!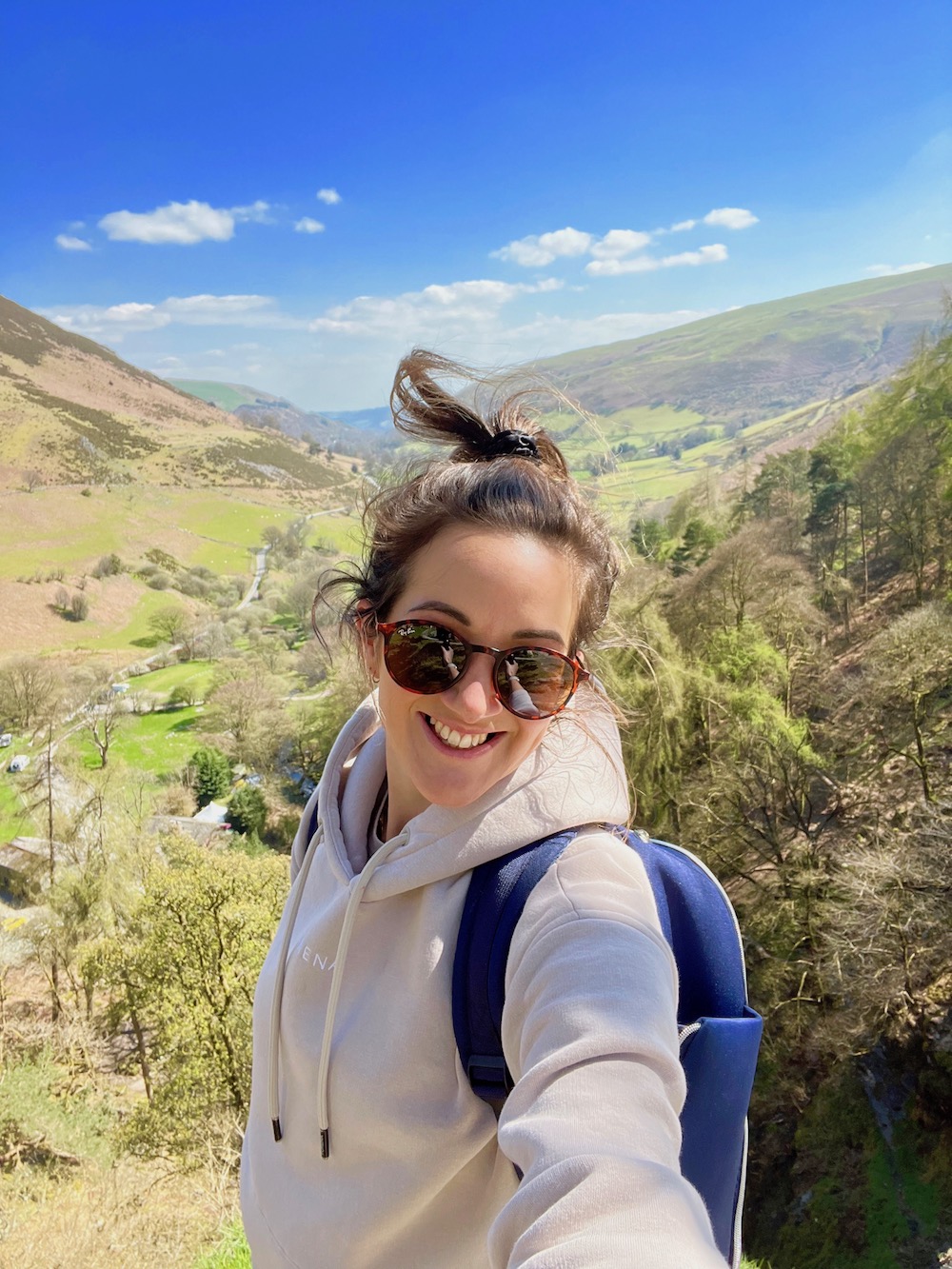 Travel Hack Tip: You will need cash when visiting Pistyll Rhaeadr waterfall, whether you need to pay for the car park (£5 weekday and £10 weekend), the toilets or the cafe. It was all cash when I visited so don't be caught out!
It's very easy to drive there and you can park just 250 yards from the bottom of the waterfall. If you wish to hike to the top, there's a well-marked path and it's a short (albeit VERY steep!) walk.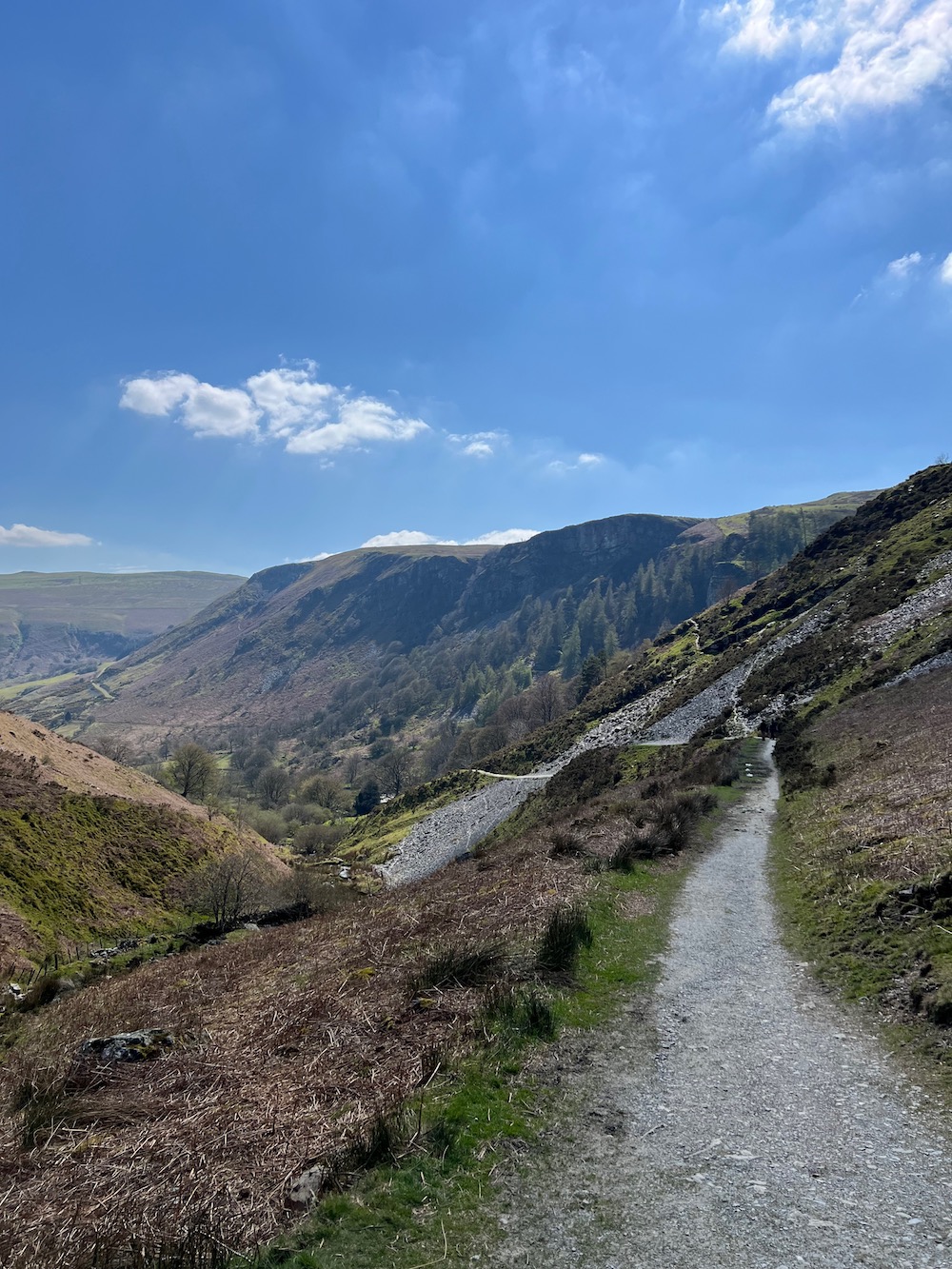 How to find Pistyll Rhaeadr waterfall – Driving and parking
The simplest way to find the waterfall is to use Google Maps. Type 'Pistyll Rhaeadr' into Google Maps and it'll take you straight there.
There is a narrow country lane for the last mile or two of the drive but, other than that, the drive is very simple and there is plenty of parking space.
If it's quiet when you visit then you can park for free on the side of the road near the cafe. I visited on a Friday morning in April and there was space to park on the verge. If it's busier when you visit then you'll need to pay for the car park. 
The car park costs £5 during the week and £10 at the weekend (prices accurate as of May 2023) and you will need cash!
You will also need cash for the tearoom and the public toilets.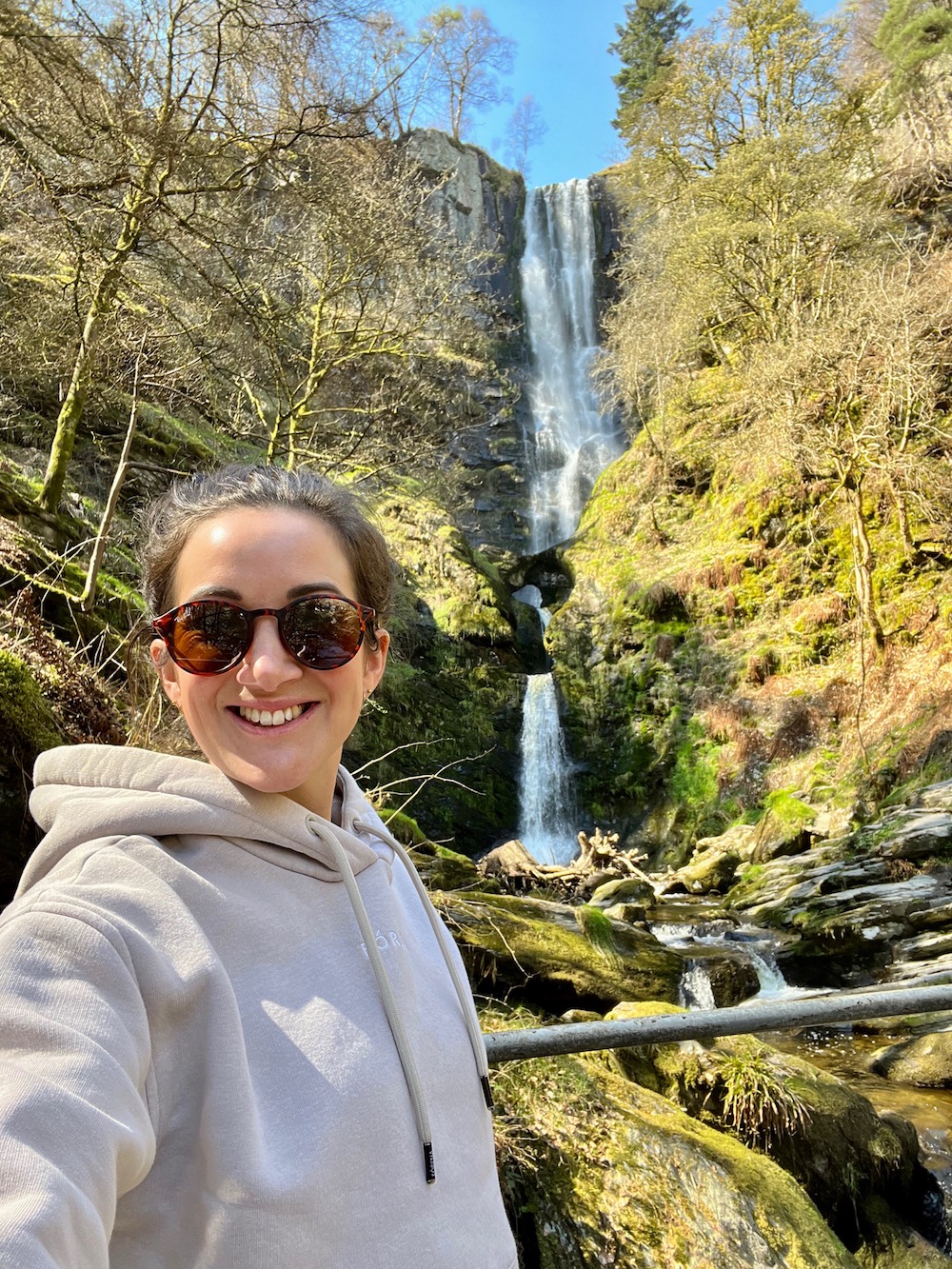 Walking to the bottom of Pistyll Rhaeadr waterfall
The bottom of Pistyll Rhaeadr waterfall is just 250 yards from the car park. It's a forest footpath and there are a few steps at the start so it isn't wheelchair or pushchair accessible. The path is uneven but it's short and wide.
If you have a baby or a young toddler then it's a short enough walk to carry them.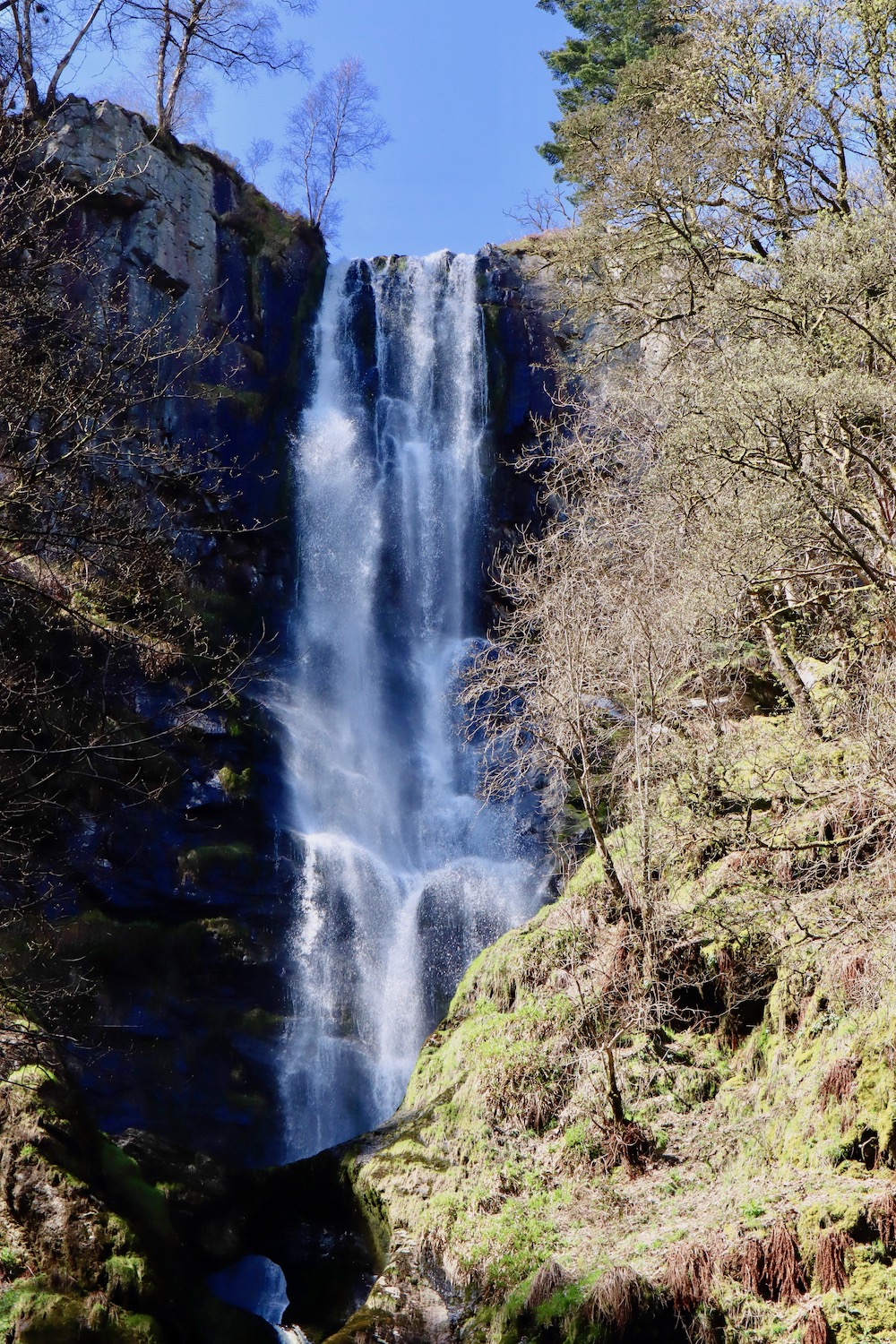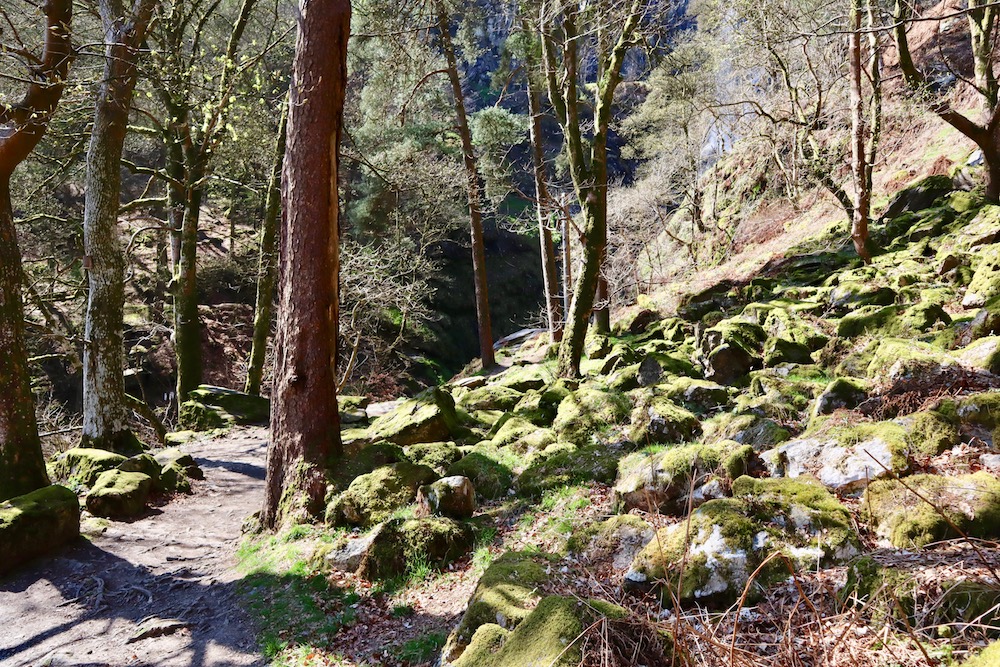 Walking to the top of Pistyll Rhaeadr waterfall
It's also fairly easy to walk to the top of Pistyll Rhaeadr waterfall via a well-trodden footpath. There are some sign posts but the path is so well worn that it would be impossible to go the wrong way.
The walk isn't far but it is very steep. It takes about 20 minutes to reach the top but if you find it difficult you could stop and rest as there are plenty of places to sit down (on the grass) and take in the view.
At the top of the falls I saw people dipping in the rocky pools but people were mostly just sitting down to enjoy the views. Lots of people were having picnics and taking photos.
Something that is worth noting is that there isn't a barrier at the top. Just something to consider if you're visiting with young children! It's quite frightening but exhilarating to peer over the top and see the water pummelling down the cliff!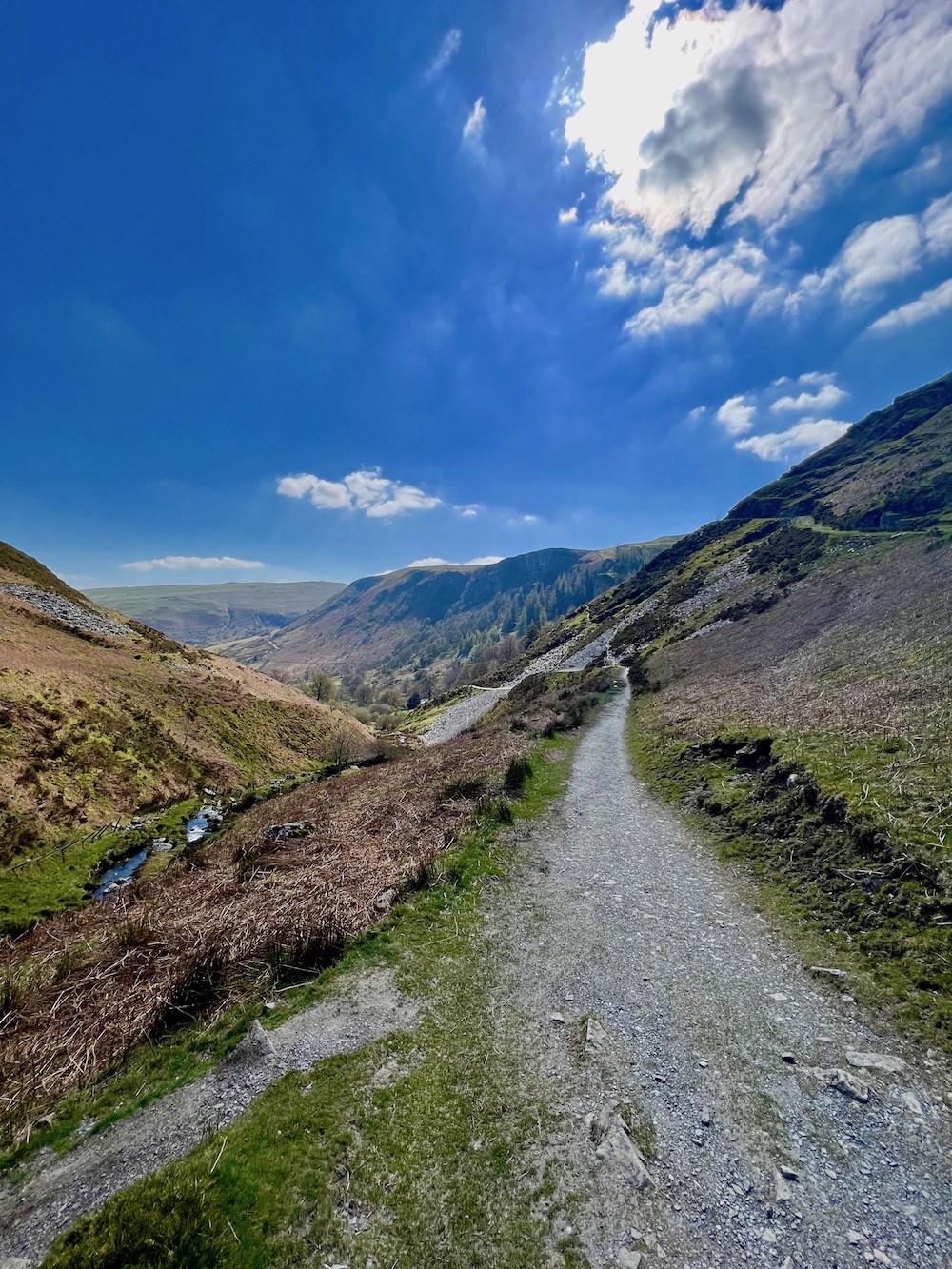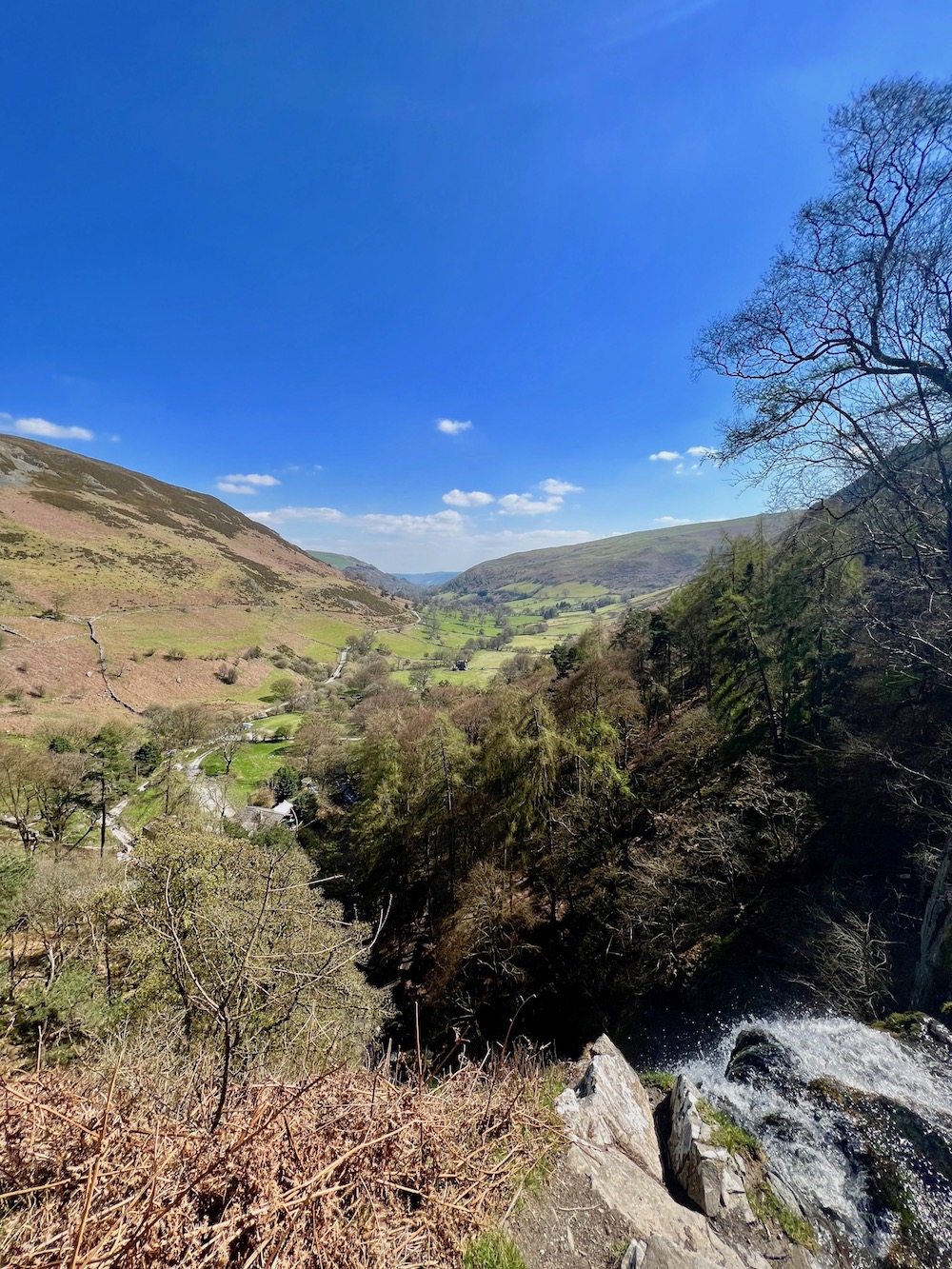 The Pistyll Rhaeadr waterfall cafe
Yes, you heard that correctly. There's a lovely tea room at the bottom of Pistyll Rhaeadr waterfall.
The tearoom serves sandwiches, toasties, cakes, ice creams and drinks. I had the rocky road cheesecake and a pot of tea and it was delicious. Just what I needed after the walk up and down!
Don't forget that it's cash only in the tea room!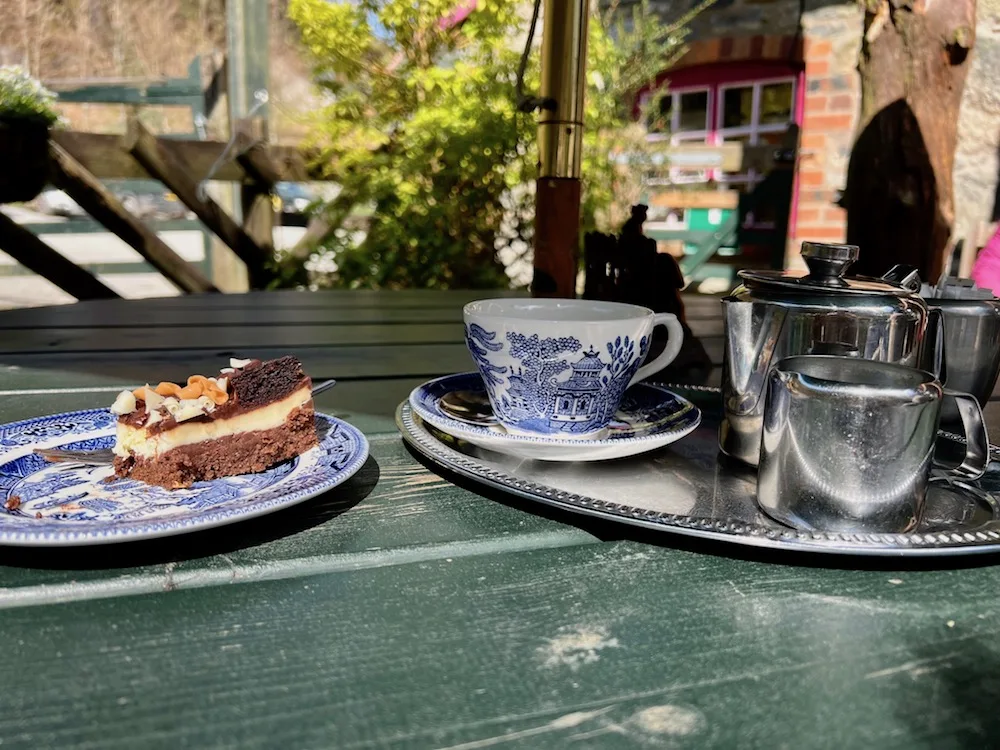 Are there toilets?
Yes, there are public toilets in the car park. You have to pay 50p in cash to enter the toilets.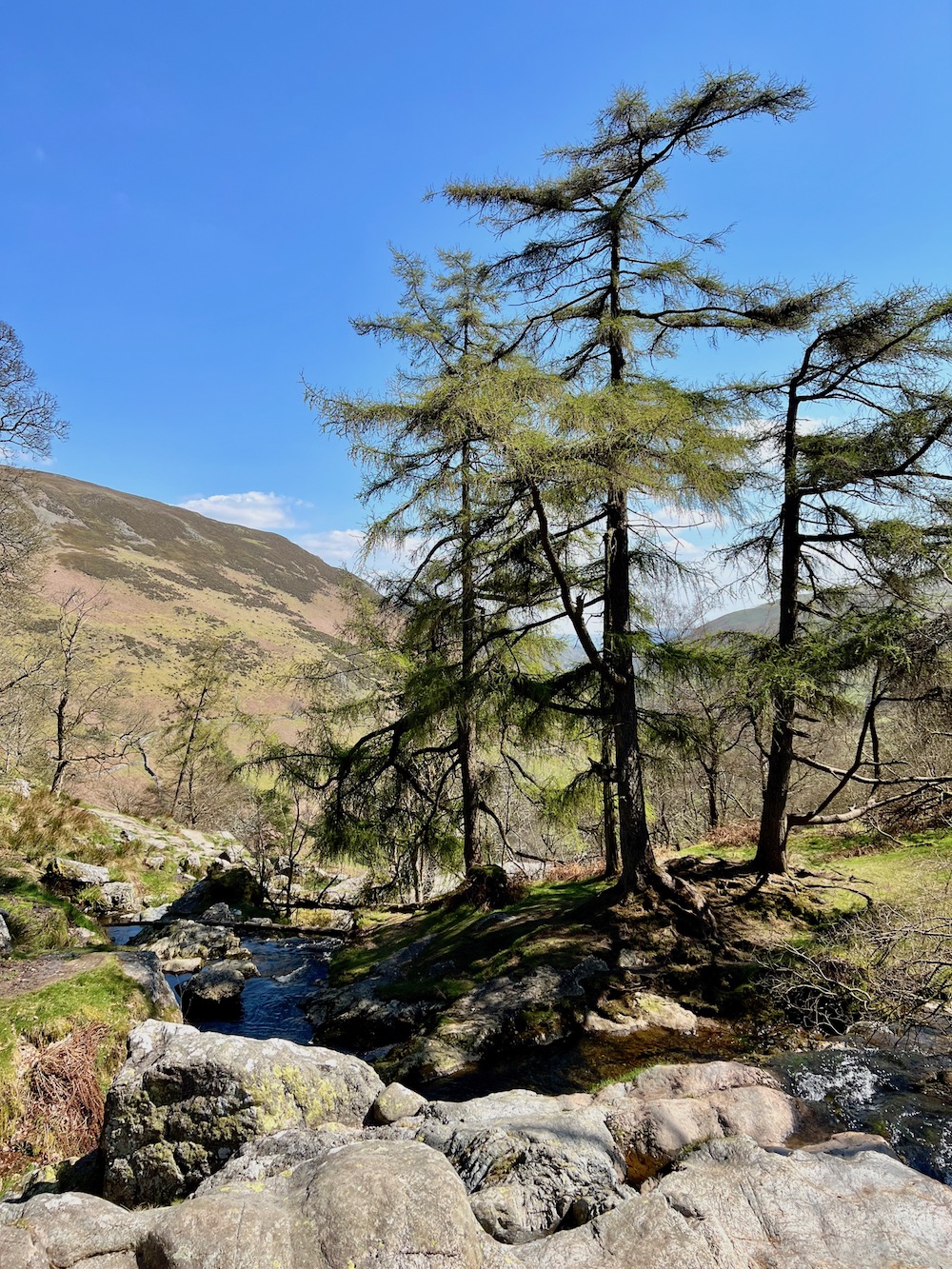 What are the seven wonders of Wales?
Pistyll Rhaeadr waterfall is known as one of the 'Seven Wonders of Wales' which isn't actually an official list. It's more a collection of notable landmarks and natural features in Wales which are well worth visiting!
 The Seven Wonders of Wales include:
Pistyll Rhaeadr Waterfall: Located in Powys, this waterfall is one of the highest in Wales and is known for its natural beauty.
Llangollen Bridge: A medieval bridge in the town of Llangollen, Denbighshire, known for its intricate design and picturesque location.
St Winefride's Well: A holy well in Holywell, Flintshire, that has been a pilgrimage site since the 7th century.
Snowdon: The highest mountain in Wales and England, located in Snowdonia National Park.
Wrexham Steeple: The tower of St Giles' Church in Wrexham, which is said to be the tallest church tower in Wales.
Gresford Bells: The bells of All Saints' Church in Gresford, Wrexham, which are famous for their melodic sound.
Harlech Castle: A medieval fortress located in Gwynedd, overlooking Cardigan Bay, which is a UNESCO World Heritage site.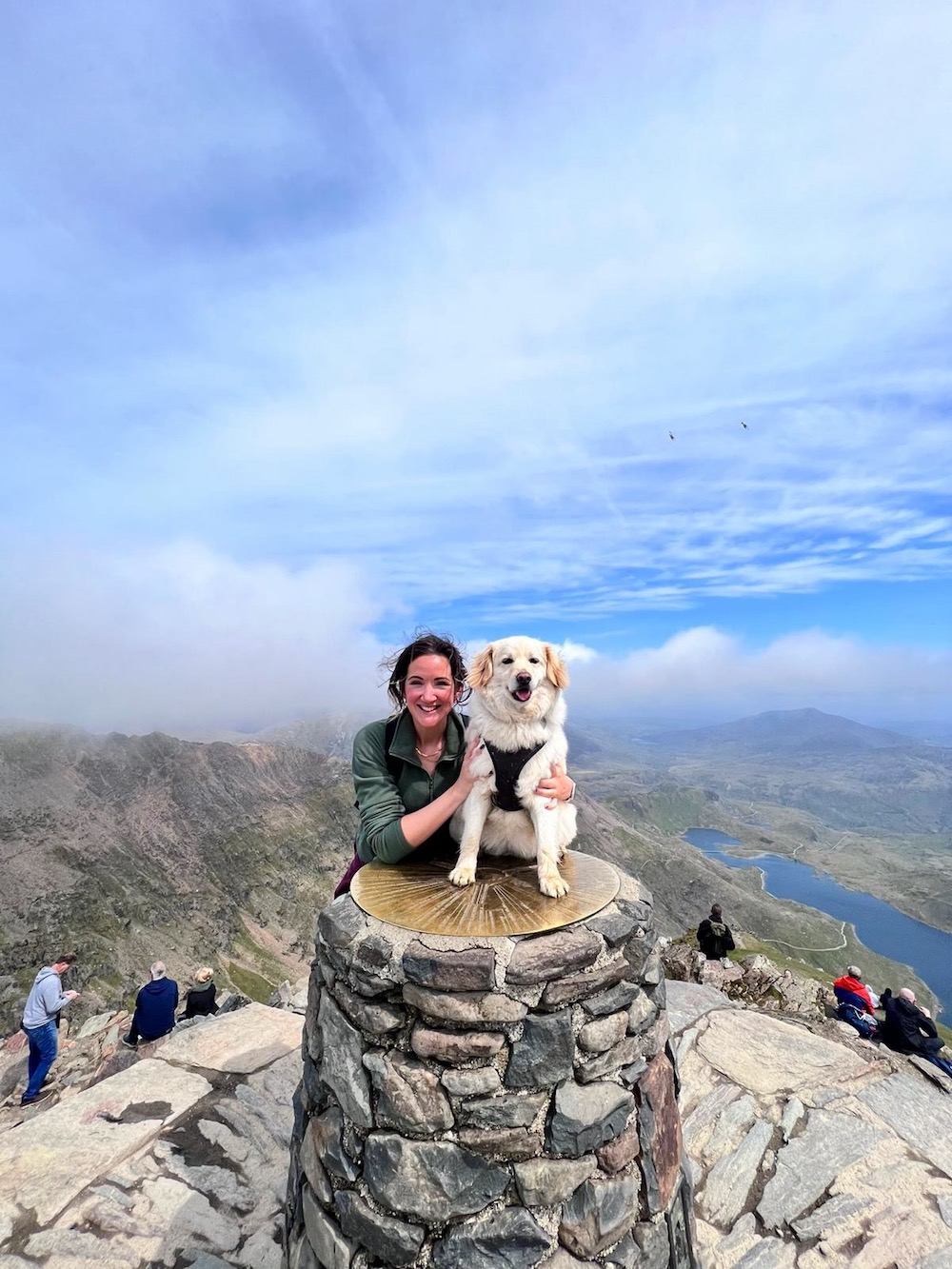 When is the best time to visit Pistyll Rhaeadr?
When I visited, it was perfect! I went on a Friday morning in April. It was beautiful, sunny and warm and it was very quiet!
I've read lots of online reviews saying it does get very, very busy. So if you can avoid those sunny weekends in the summer months then I would, but don't let that stop you going. Just try and go either early in the morning or late in the day. I imagine that narrow country lane could be a bit of a nightmare when there are lots of cars.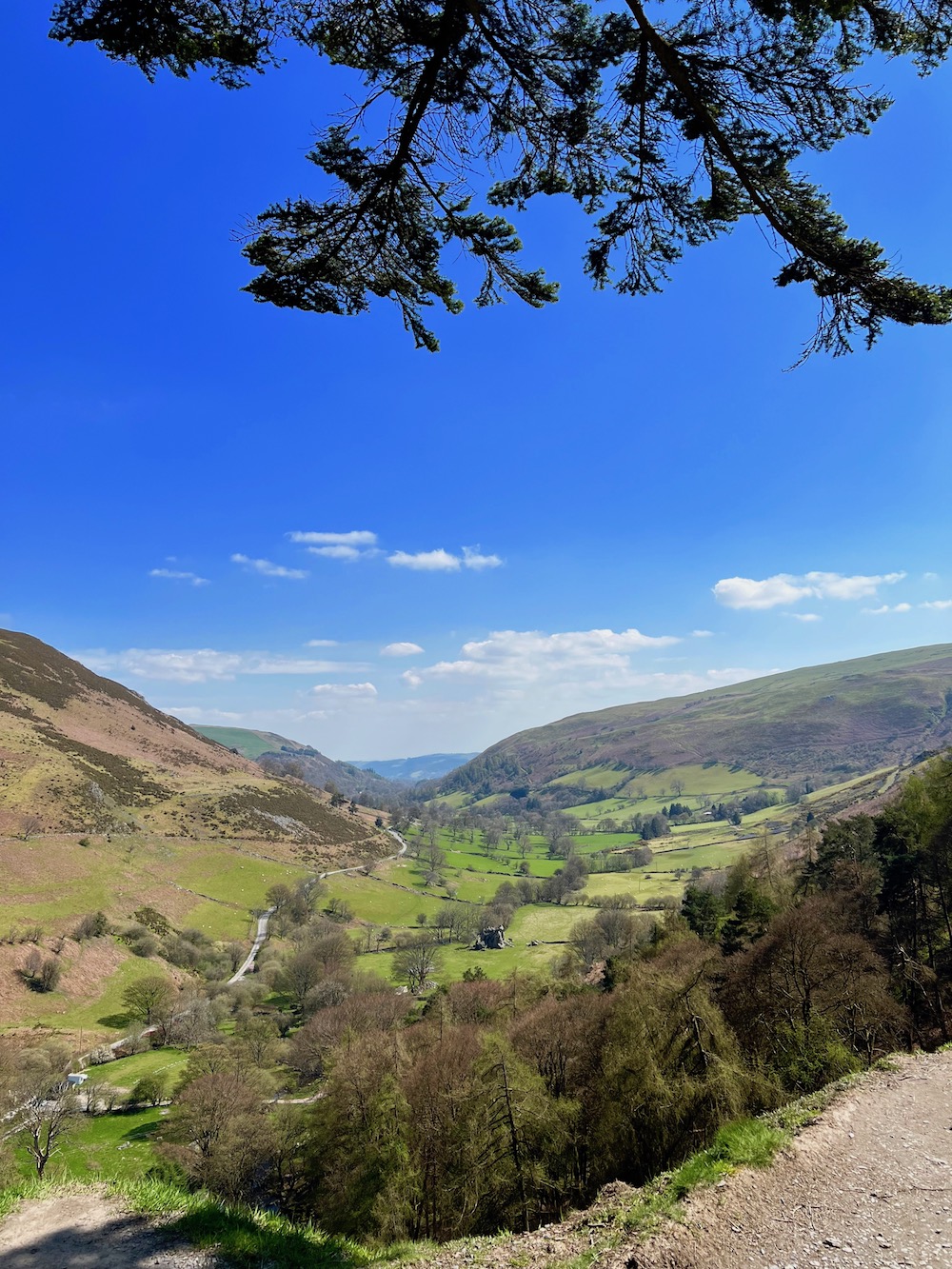 What should you wear to do the Pistyll Rhaeadr waterfall walk?
It's a short walk so you don't need to prepare like you're hiking up Snowdon! But this is Wales where the weather can change quickly and you're almost always guaranteed rain.
I'd wear:
Sturdy, waterproof walking boots if it's been raining recently- The path is rocky and uneven and it was very muddy at the top
Comfortable clothing. I like to wear leggings or walking trousers, a t-shirt and a fleece.
Have some waterproof clothing in the car, it's a short walk so you'll only need to take it if it looks like it could rain within the next hour.
A sun hat or a warm hat.
Don't forget sunscreen and sunglasses.
Source: thetravelhack.com