If you're looking for camping clothes and ideas for what to wear camping then I've got you covered.
Here are some of my favourite camping outfits and what women should pack for a camping trip.
Shoes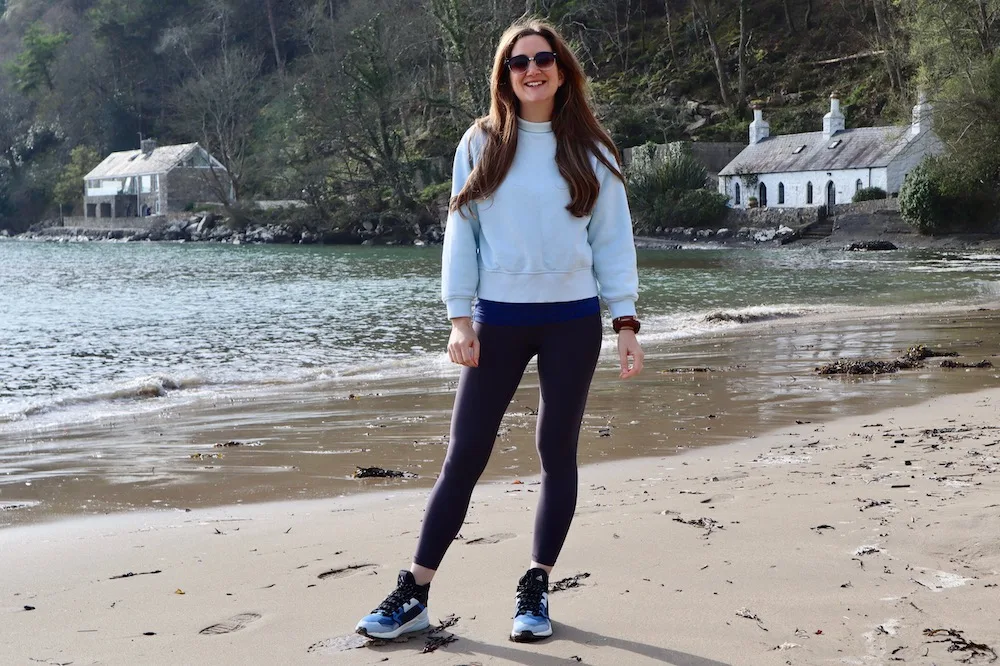 The right footwear is really important for a camping trip. You're going to be outdoors a lot and there's a high chance your feet will get wet, whether it's through rain or early morning dew on the grass in your camping field.
I'm sorry if you're trying to pack light but you're going to have to pack a few pairs of shoes for your camping trip.
Flip flops, sandals or sliders – To wear in the communal showers and for something easy to slip on and off and when it's hot
Wellies – 100% pack them if it's likely to rain but they're also handy for wet grass in the morning
Outdoor shoes – Something comfortable, sturdy and water resistant for walking, hiking and general outdoorsiness
You'll need a good pair of outdoor boots. I've got the adidas Terrex hiking shoes. They're as comfy as trainers but have a bit of extra support and grip. I think they look cute too so I'm happy to wear them out and about as well as while I'm hiking.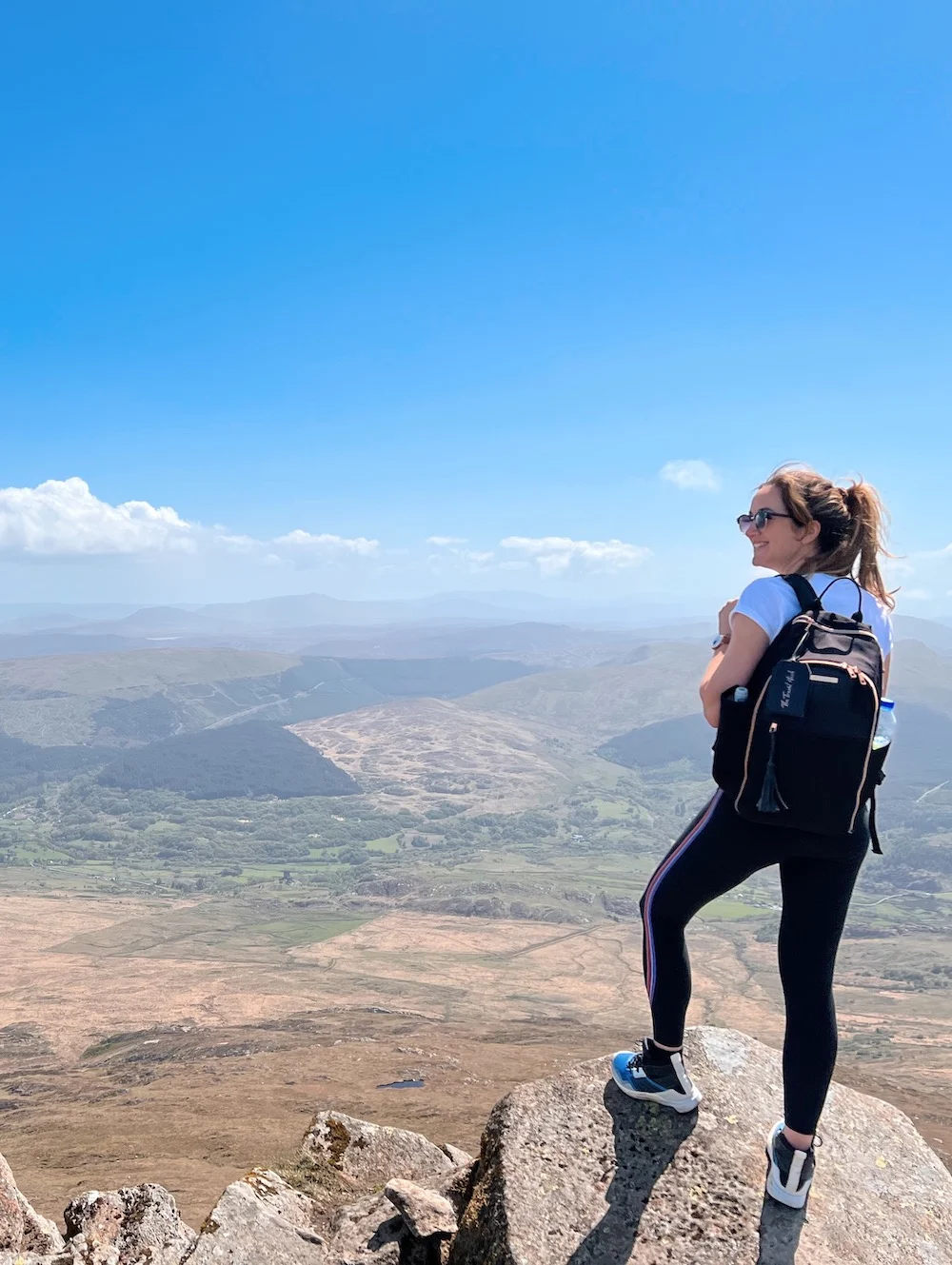 What to wear camping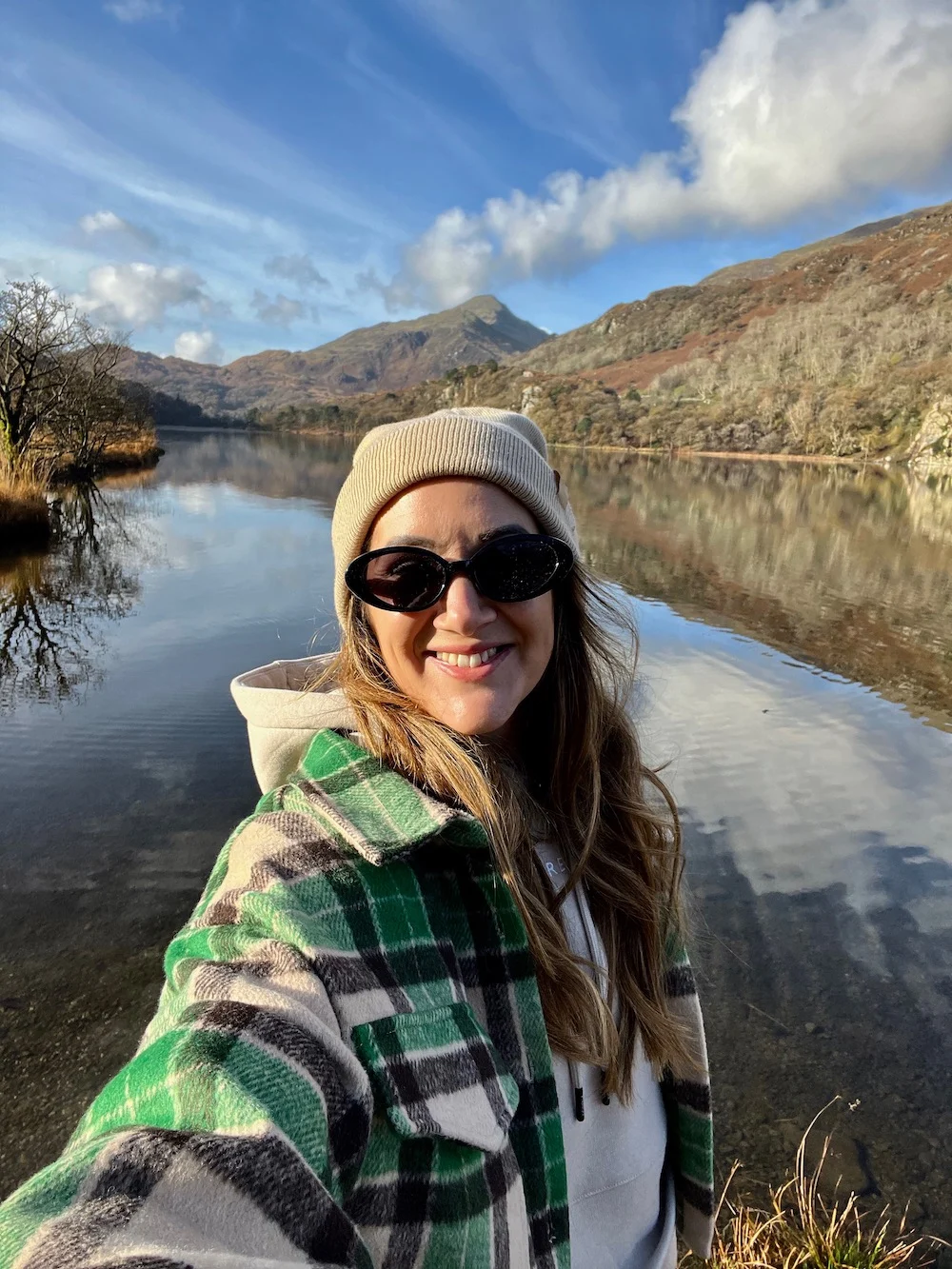 Layers! Layers are key and they're absolutely essential for a camping trip. You're going to be outdoors all day so you'll need to deal with lots of changes in temperature. 
You don't need to go out and buy any special women's camping clothes, these will probably be items you already have in your wardrobe. The only thing you may need to buy is a waterproof jacket – but if I'm totally honest, I don't always wear mine because I'd never sit out in the rain anyway!
I mostly wear leggings or jeans with a t-shirt, a hoodie, a jacket/shacket/gilet and then a coat.
Trousers – Jeans, leggings or outdoor trousers. 
I avoid baggy trousers because they tend to get wet and dirty in the grass. Stick with skinny styles like your regular gym leggings, fleece lined leggings if it'll be cold, skinny jeans or walking trousers like the Acai stretch skinny outdoor trousers or Craghoppers Hiking Pants.
Shorts or skorts – I've been living in skorts this summer and I love this one from Oh Polly.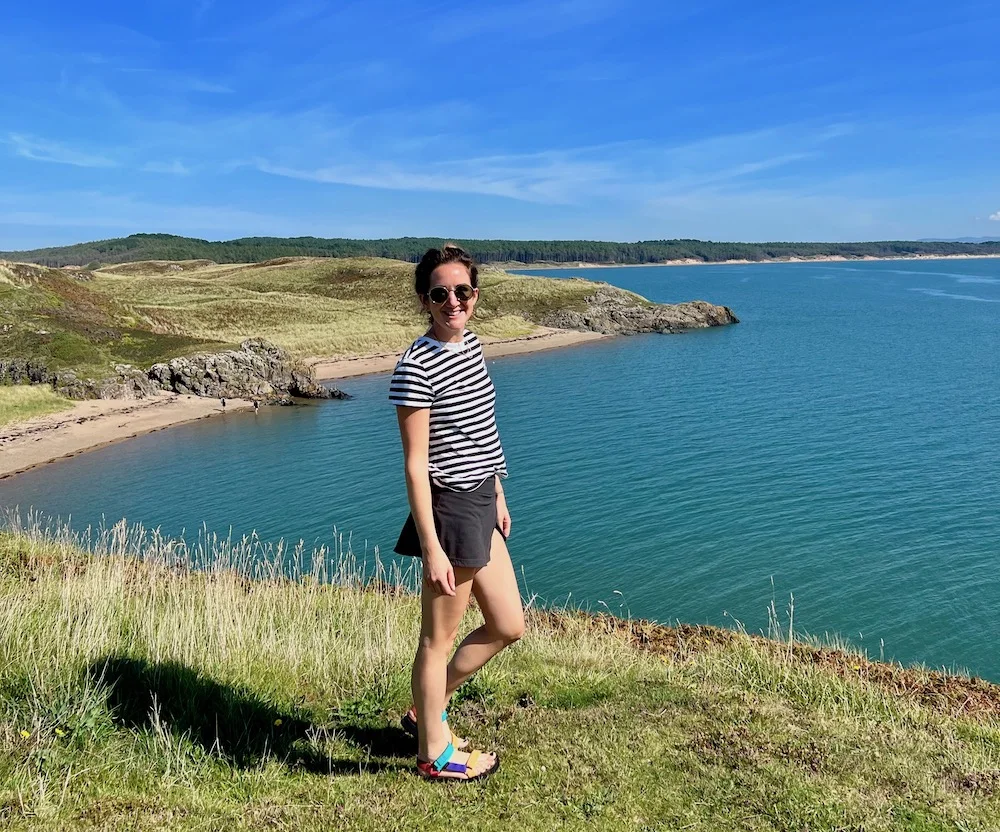 T-Shirts and vests – Cotton t-shirts or tank tops are perfect.
Thermals – If it's likely to be cold then a thermal top and thermal trousers are great.
Sweatshirts, fleeces and jumpers – All the warm and cosy jumpers
Light jacket – Something like a shacket, cardigan or fleece is ideal
Waterproof jacket – I like a thin, lightweight waterproof jacket so you can wear it even when it's warm but rainy. I have a North Face waterproof jacket which was quite expensive but I've had the same one for over 15 years and it's still great.
Warm coat – If there's a chance it's going to get cold then you'll also need a warm coat.
Warm socks – Especially for those chilly evening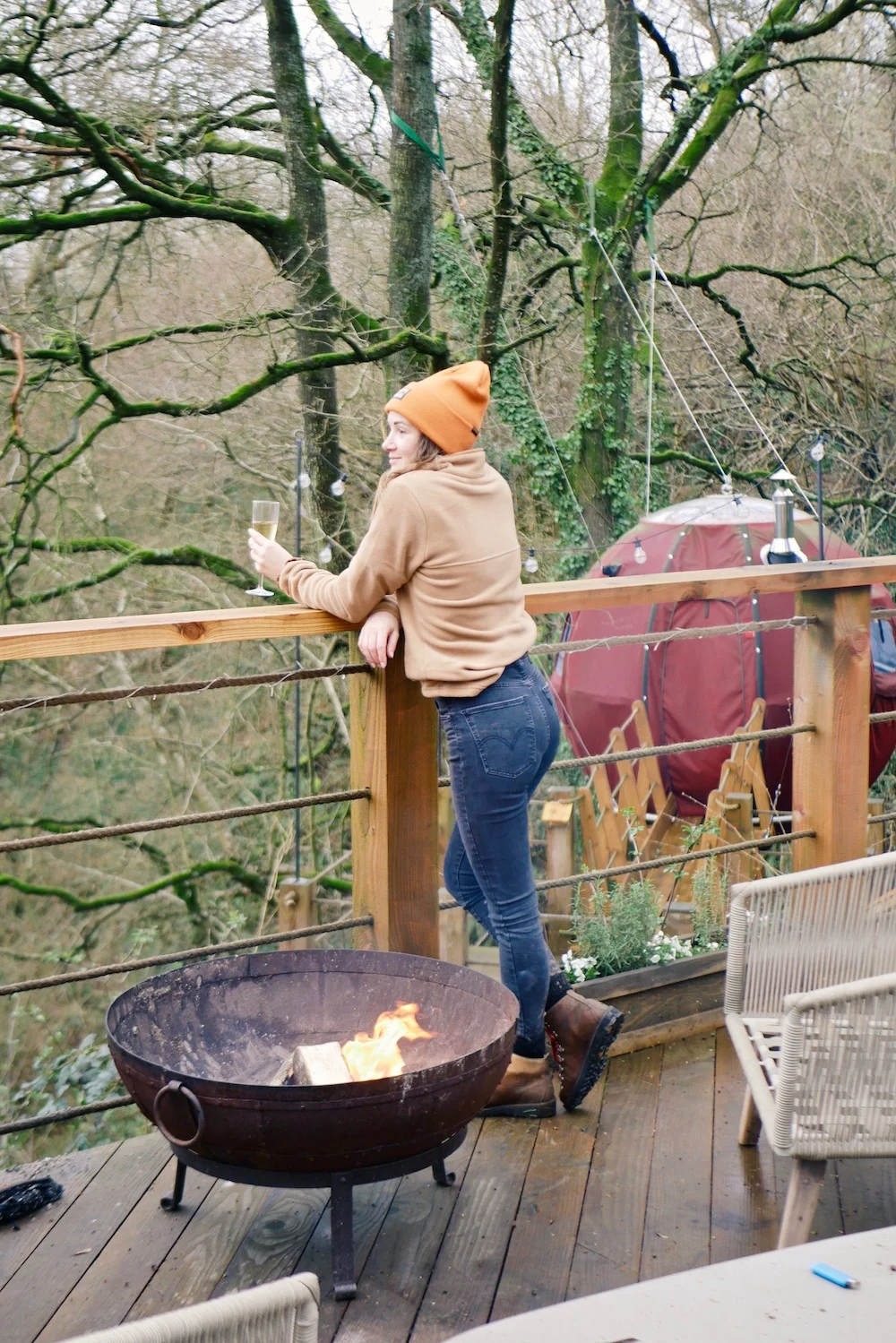 What to sleep in while you're camping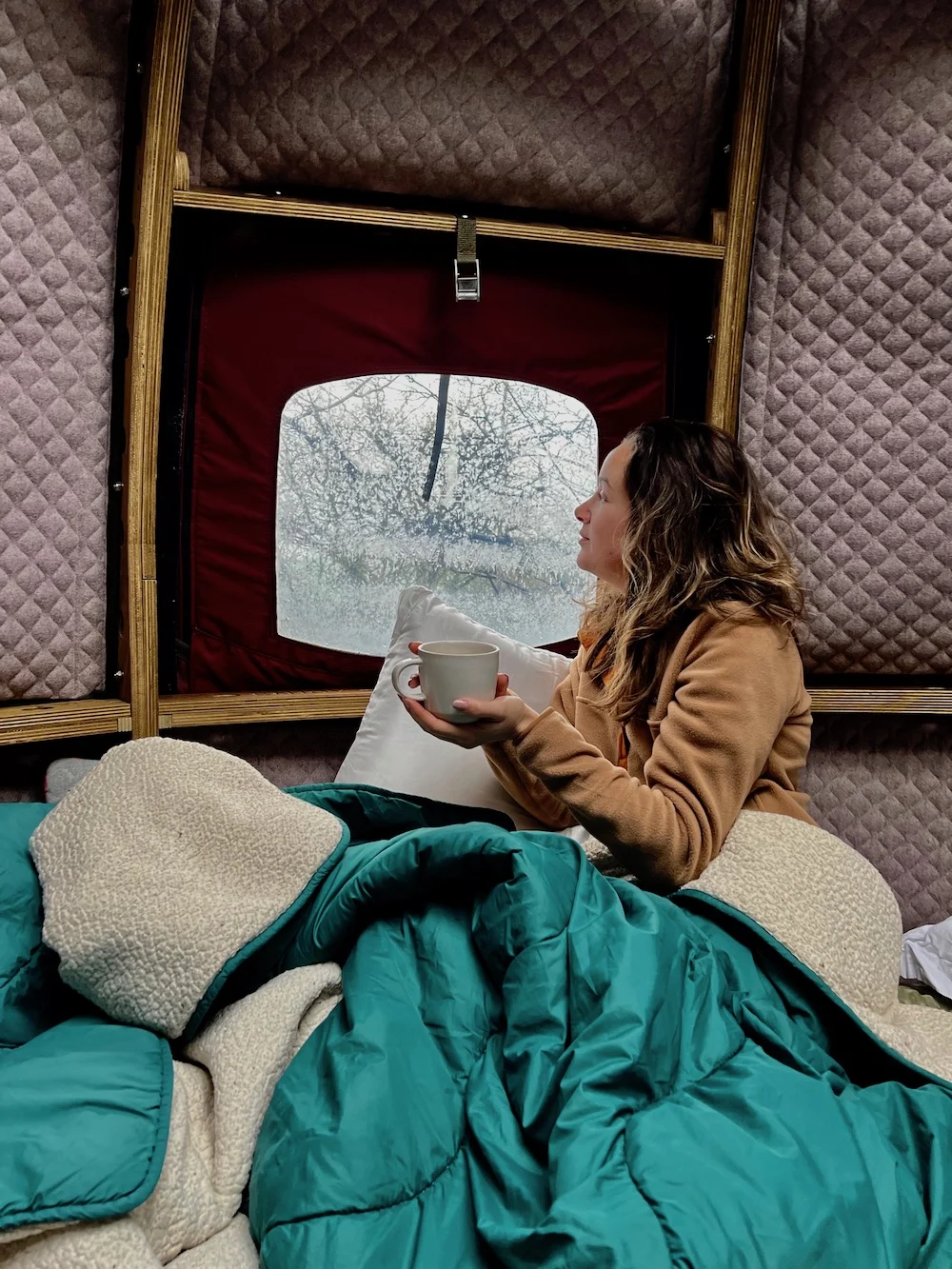 When you're picking out your pyjamas for your camping trip, you need to consider:
You'll probably wear these clothes to walk across the campsite for late-night and early morning toilet trips so it needs to be an outfit you're happy to be seen in! It's worth noting that lots of people do walk around campsites in their PJs  so it's nothing to be embarrassed about. 
It's going to be cold in the middle of the night so must be warm
And potentially boiling when you wake up so a quick layer to take off
Avoid a hoodie unless you know you can comfortably sleep with the hood up all night, otherwise it's going to be in your way
Personally, I like to wear the kind of casual athleisure wear or lounge set you'd wear as your 'comfies' at home. 
A loose tracksuit with a long sleeve sweatshirt is perfect.
Don't forget warm socks and a vest underneath if you get hot.
If it's likely to be hot then opt for 2 piece like this with shorts and a round neck sweatshirt. 
If it's likely to be bad weather while you're camping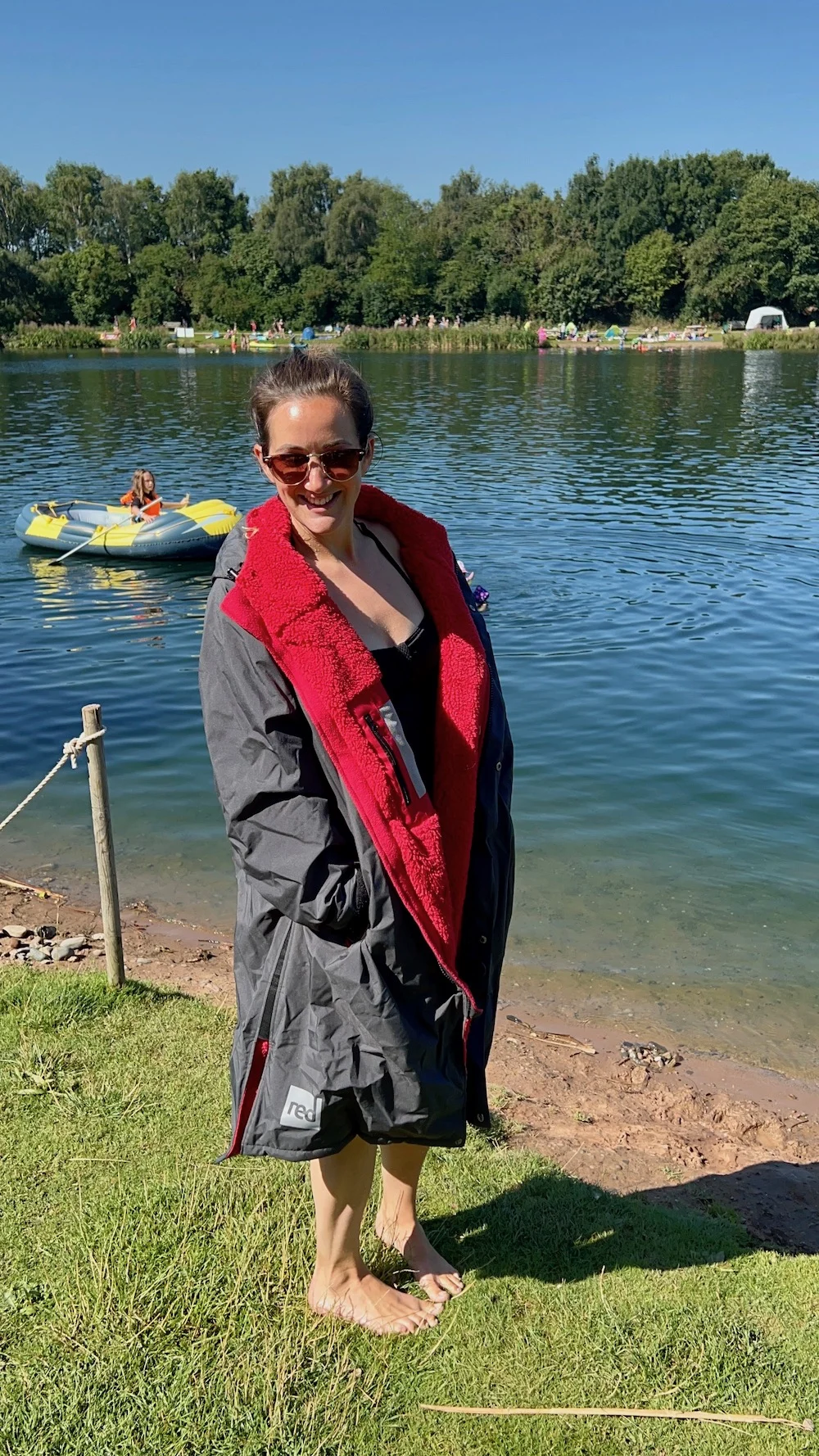 If you already know the weather will be terrible while you're camping then I highly recommend a dry robe/changing robe.
I have this one from red and it's just the cosiest, warmest, loveliest thing. It really helps make virtually all weather conditions bearable! 
You'll also want some wellies. I like these Chelsea style Bobbi Boots from Merry People.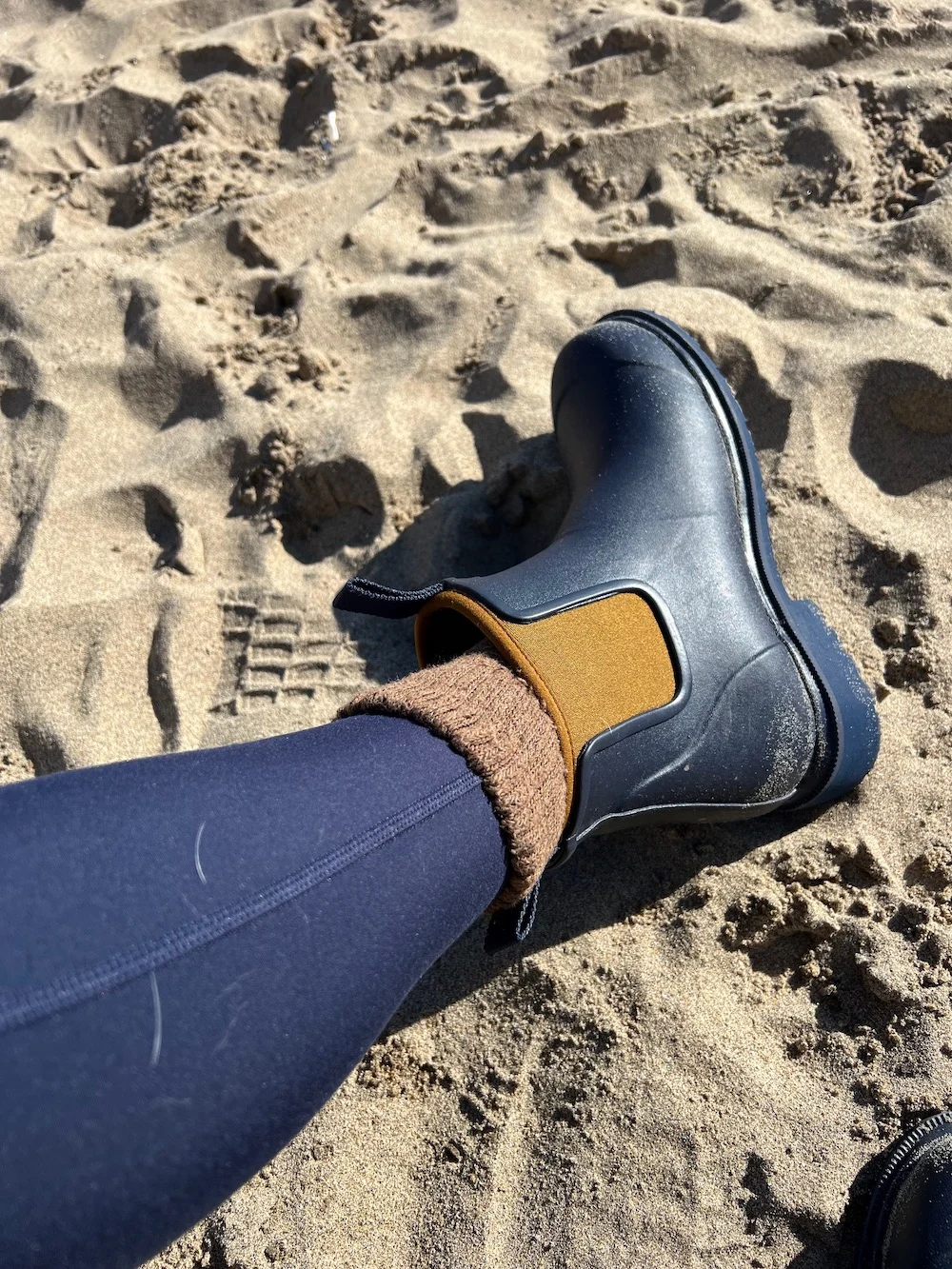 What underwear to pack for a camping trip
I'd recommend whatever is comfortable and practical and suitable for your outfits. This isn't the time to be thinking about what looks sexy so just opt with basics!
If you'll have your period while you're camping then period underwear is a good idea, even if it's just as a backup. You might have to walk to the toilet block on your campsite and you'll probably want to pitch your tent as far from the toilet block as you can!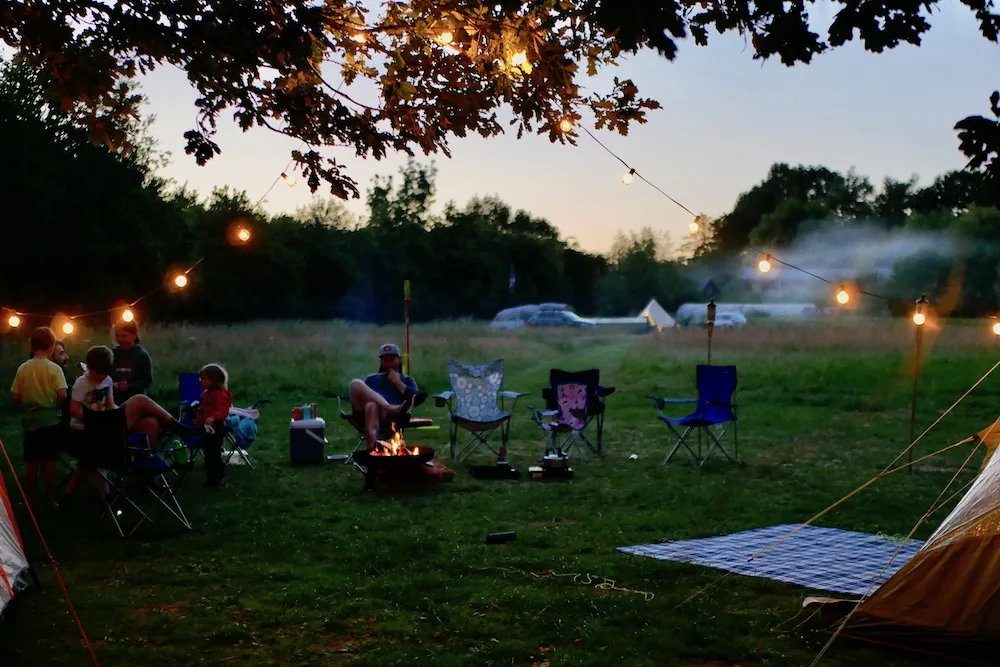 Headwear to wear while camping
Whatever the weather, I recommend taking a sports cap and a warm beanie. Even in midsummer it can get cold at night time and both hats will help with a bad hair situation – which is likely to happen while you're camping!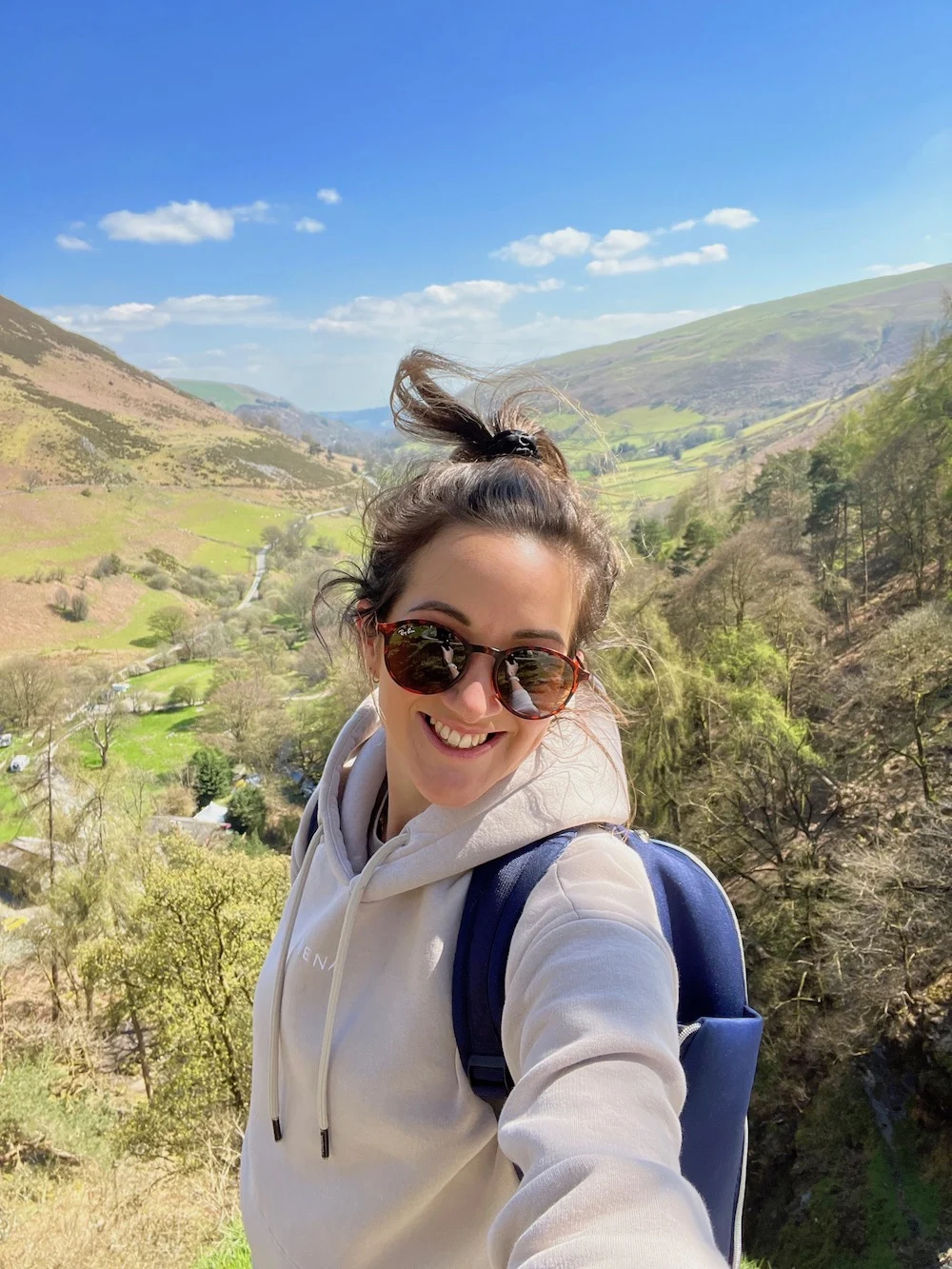 Swimwear
Don't forget your swimwear while you're camping. There might be the opportunity for a wild swim and you won't want to miss that.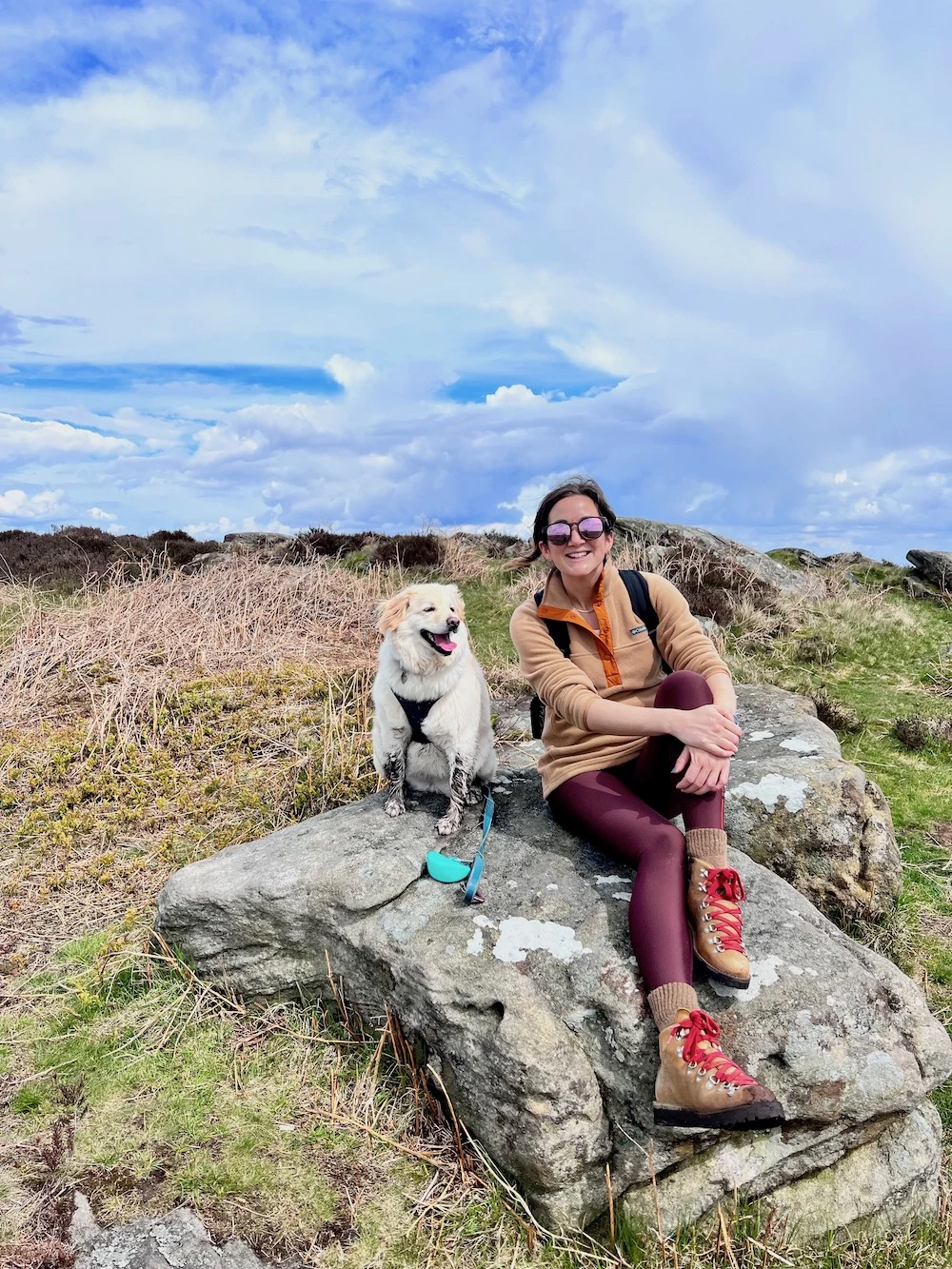 Other things you'll need
A backpack/day pack
Sunglasses
Possibly gloves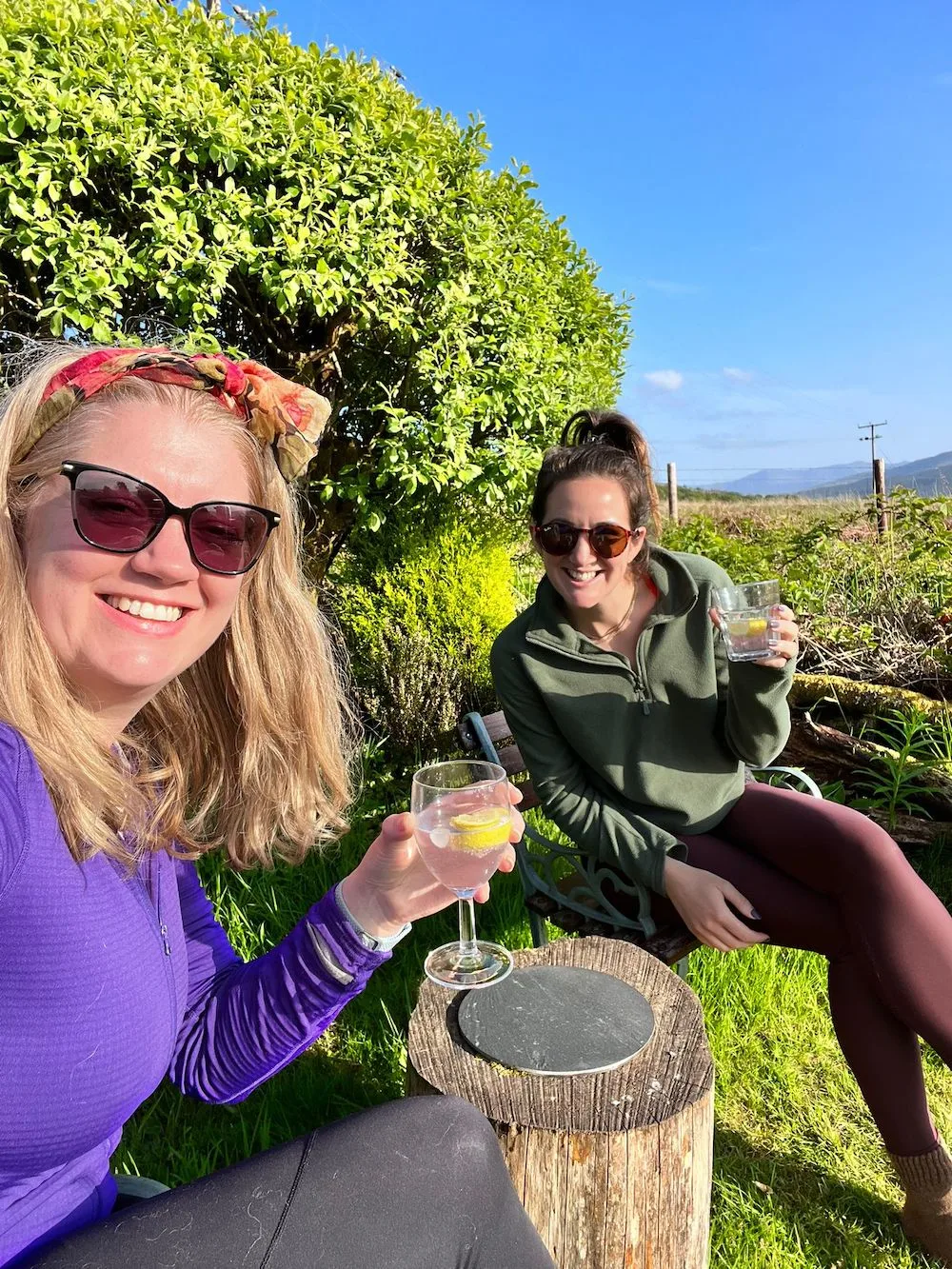 Camping outfit ideas
For more camping outfit ideas, I made a video about what to pack for a glamping trip.
Source: thetravelhack.com